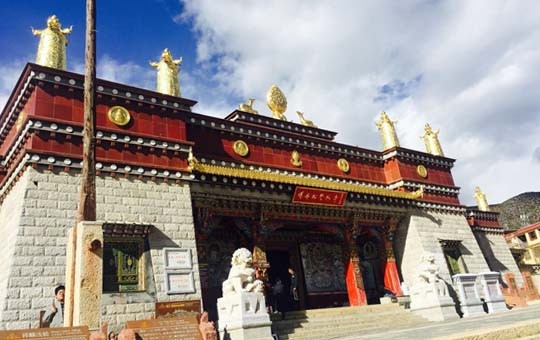 On top of a hill overlooking a scenic lake to the north of Shangri-La lies the largest Tibetan Buddhist monastery in Yunnan province, Ganden Sumtseling Monastery. Also known as "Songzanlin Monastery," "Guihua Monastery," and, affectionately, "Little Potala Palace" after its larger cousin in Lhasa, this huge and majestic monastic complex has housed Buddhist monks for over 300 years. The temple is now home to at least 700 monks belonging to the Gelug Yellow Hat sect.
Highlights and Travel Tips
The various structures of the monastery are emblematic of traditional Tibetan architecture, boasting gilded roofs that glint in the sun and bright red and white walls. The monastery is composed of two main halls, namely Zhacang and Jikang Hall, as well as eight smaller surrounding colleges. The entrance to the main hall can be reached via a formidable climb up 146 steps. Once in the main hall, you will be rewarded with the sight of intricate frescoes on the walls that depict a variety of ancient Buddhist tales, as well as glittering altars lit with incense and various sculptures. From the main hall, you can explore the smaller, inner rooms of the monastery, which feature additional frescoes and beautiful decorations.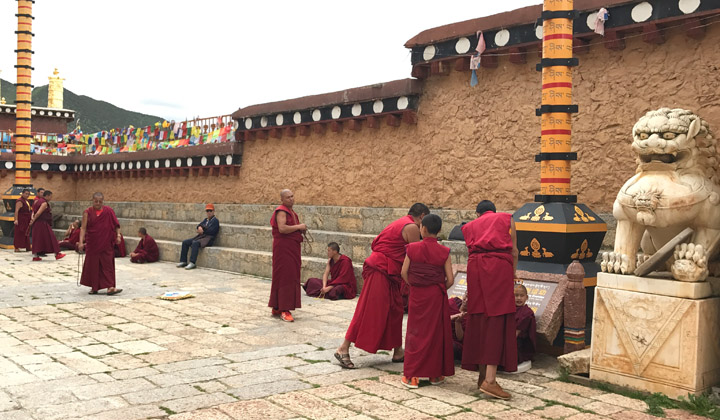 Buddhism scripture debate
Once outside, you may choose to walk around Lamuyangcuo Lake, which is situated directly in front of the monastery. This holy lake is said to be inhabited by the spirit of a guardian goddess, according to local legend. A hike around the lake takes around 1 hour and offers stunning panoramic views of the monastery.
Recommended duration of this activity: 2 hours
Opening hours: 8:00am-6:00pm
Entrance fee: 115 RMB
Popular Yunnan Tours: