Jianshui, first built in Tang Dynasty, has a long history of more than 1200 years and was called Lin'an in the ancient time,. As one of the national famous historic and cultural towns of China, it has more than 50 well-preserved ancient buildings, enjoying a great reputation as a "Museum of Ancient Buildings and Residential Houses".
Jianshui Old Town is not large, mainly including several streets center on Lin'an Road. Among the numerous ancient buildings within the town, Jianshui Confucius Temple, Zhu's Family Garden, and Chaoyang City Gate worth your visiting.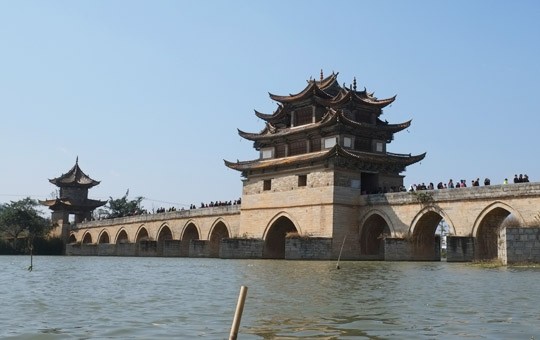 Outside the town, lies the Double Dragon Bridge, also called the Seventeen-Archway Bridge. This bridge is one of the most famous historical sites in Yunnan and considered as the most beautiful ancient bridge in China. All these fame make it an unmissable sight when you visit Jianshui Ancient Town.
Just over 20 minutes drive away from Jianshui Ancient Town, the Tuanshan village is an intact cultural village with many best preserved traditional folk houses and ancient buildings of the late Qing Dynasty. Among these buildings, Zhang's Family Garden is the second largest classical garden in Jianshui but with even better construction and of higher artistic value, thus well worth a visit.
Popular Yunnan Tours: