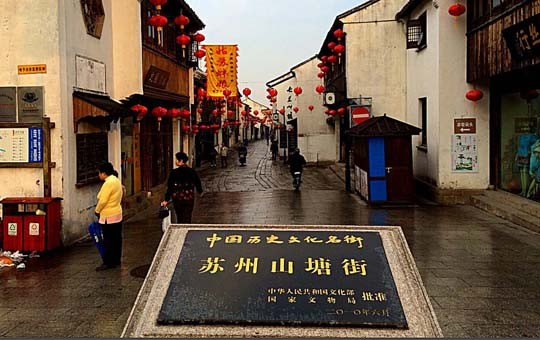 Shantang Old Street is an ancient pedestrian street flanking Suzhou's famous canals and is one of the historic city's most popular attractions. Spanning a length of over two miles through the heart of Suzhou's old town, the street offers quintessential views of the area's traditional architecture, bucolic waterways, and more.
Highlights and Travel Tips
Known as the first street of Suzhou and dating back to 825 AD, Shantang Old Street has retained its original layout for 1,200 years and features typical Suzhou-style houses with whitewashed walls and black tiles. The buildings are situated on the banks of an ancient canal, where you can see traditional wooden boats meander beneath arched stone bridges, the most famous of which is the scenic Tonggui Bridge. The street and its buildings have been restored but retain their historic charm.
Shantang Street is very long, spanning from central Suzhou to Tiger Hill. The popular ancient section occupies the eastern section of the street, comprising numerous traditional houses and buildings that are today occupied by myriad shops and restaurants. The old street makes for a nice place to stroll, try out some local street snacks, and souvenir shop.
Visitors can also take a cruise aboard a traditional wooden boat along the canal beside the road for a more leisurely view of the neighborhood. The street is particularly scenic in the evening, when red lanterns hung along the canal light up, their image reflected in the waters.
Because of its history and atmosphere, Shantang Old Street is a popular destination for tourists. Be prepared for crowds, especially in the evening and on weekends.
Opening Hours and Ticket Prices
Opening hours: all day
Entrance fee: free
Recommended duration of this activity: 2 hrs
How to Get There
The eastern end of Shantang Street is not far from Lingering Garden and the two can easily be visited together. The western end of the street abuts Tiger Hill, another famous Suzhou attraction. From elsewhere in Suzhou, the street can easily be reached by bus or car.
Popular Suzhou Tours