In the far northwest of China lies a province roughly the size of California that features countless marvels, both historical and geological. Gansu province is renowned for its diverse natural landscapes, from the sands of the Gobi Desert to the otherworldly rainbow mountains of Zhangye National Geopark. It is also home to numerous reminders of China's ancient past, including desert oases used as pit stops along the Silk Road and some of the oldest remnants of the Great Wall.
While often overlooked in favor of China's more popular destinations, Gansu is full of wonders that make it worth adding to your adventure in China.
Things to do and Travel Advice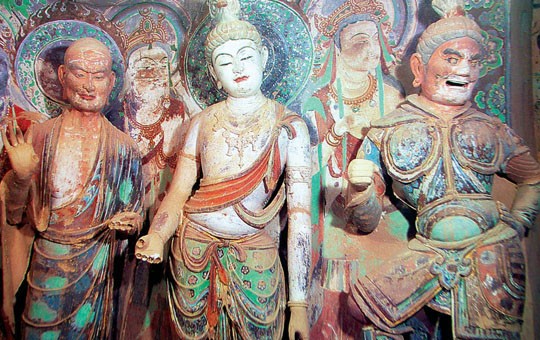 In the northwest corner of Gansu Province, Dunhuang is a desert oasis that was once a hugely important way station along the Silk Road. Today, this magical place is unlike any other part of the country. Loaded with history, surrounded by majestic sand dunes, and focal point for both western and eastern Chinese culture, Dunhuang should be on the itinerary for any adventurous traveler.
The undisputed highlight of Dunhuang is the exquisite Mogao Grottoes site. Unlike the Buddhist art found at Longmen or Yungang Grottoes, Mogao contains more paintings than carvings and was constructed over a much longer period of time. Nearby, the beautiful Singing Sand Dunes Park and Crescent Moon Lake make for a wonderful afternoon of fun for the whole family.
The city of Dunhuang itself hosts the lively Shazhou Night Market that seems to take over the town once the sun goes down. It contains food streets, a fruit market, and numerous handicraft vendors.
The small city of Zhangye in central Gansu province is best known for the awe-inspiring geological landforms of Zhangye National Geopark, often named by the media as one of the most beautiful sights in China. The surreal, multicolored landscape is formed of sandstone laid down by sedimentation over millions of years and shaped into dramatic peaks and troughs by erosion. The parks are crisscrossed with paths and viewing platforms, and the most popular place to see the peaks, Linze Danxia Scenic Area, is around 40km away from Zhangye city (around 1.5 hour drive).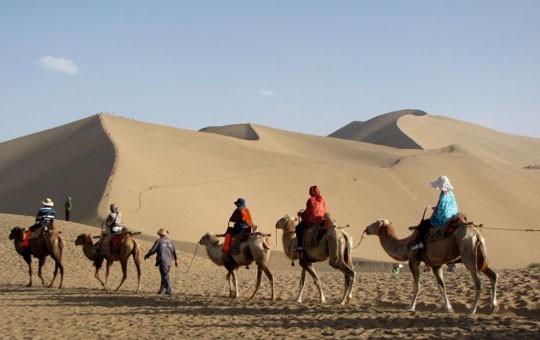 Like the rest of Gansu, Zhangye city also features a number of impressive Buddhist relics, chief among them the Giant Buddha Temple, which houses the largest reclining Buddha statue in China!
Given its great geographical and strategic importance throughout Chinese history, Gansu hosts a stunning variety of military and defensive structures, including Jiayuguan Fortress, which marks the point where merchants, traders, and exiles would leave the relative safety of Ming China to embark upon the wild and desolate Silk Road. If you visit Jiayuguan Fortress, you'll be able to catch demonstrations and historical reenactments taking place on the ancient practice grounds throughout the day. All in all, this area gives you a real feel for the longevity of Chinese history and an impression of the immense and perilous journey merchants took to reach the West.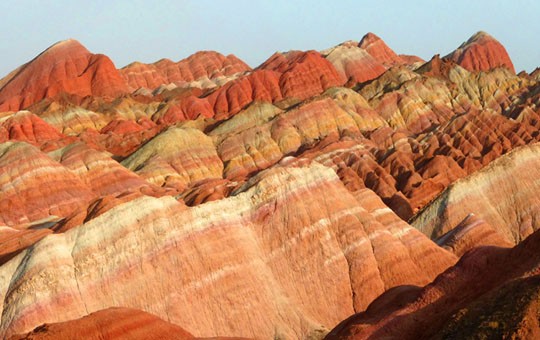 Some of the oldest segments of the Great Wall can also be found in Gansu, including the ruins of the original wall constructed by the Han Dynasty, the very first beacon tower built during the Ming Dynasty, and the steep, restored Overhanging Great Wall that offers stunning views of the surrounding mountain scenery.
Eating in Gansu
Due to the longtime presence of foreigners along the Silk Road and the influence of the province's resident Hui ethnic minority population, Gansu cuisine features unique flavors and cooking techniques that are unparalleled anywhere else. Unlike the rest of China, pork and chicken are not as common in Gansu, with beef and mutton being the most popular meats. Barbequed mutton and lamb with vermicelli are common Hui dishes you'll find in Gansu. If you're feeling extra adventurous, camel hoof and fried camel hump are considered delicacies as well. Gansu is also famous for its stretched wheat noodles, which are usually served with beef.
Best Time to Visit Gansu
Due to its desert climate and high altitude relative to the rest of the country, the weather in Gansu can be highly variable. In general, though, winters are very cold (with January's average lows ranging from -14°C/7°F to 3°C/37°F) and summers quite warm (with highs ranging from 22°C/72°F to 25°C/77°F). Gansu doesn't see much rain compared to China's other regions, but what precipitation it does receive mostly falls during the summer.
That said, the weather throughout Gansu is quite pleasant in the late spring and early autumn, so May and October make for the best times to visit.
Because of its high altitude and relatively little cloud cover, visitors to Gansu need to take extra care to protect themselves from the sun. Be sure to wear plenty of sunscreen!
Transportation
Flying is the fastest and most convenient way to reach Gansu from other regions of China. The largest airport is in the capital city of Lanzhou, which offers flights on more than 60 airlines to all of China's biggest cities. Dunhuang Airport is also well equipped and has regular flights to major cities like Beijing and Shanghai.
Once in Lanzhou, many of Gansu's most popular locations can be reached by bullet train. The high-speed railway connects Lanzhou to Zhangye, Jiayuguan, Dunhuang, and more, with multiple trains operating throughout the day. Most high-speed trains depart from Lanzhou Train Station or Lanzhou West Train Station.
Gansu Private Tours