Ten Regional Dishes To Try While in China
Ultima actualizacion en 2019-05-01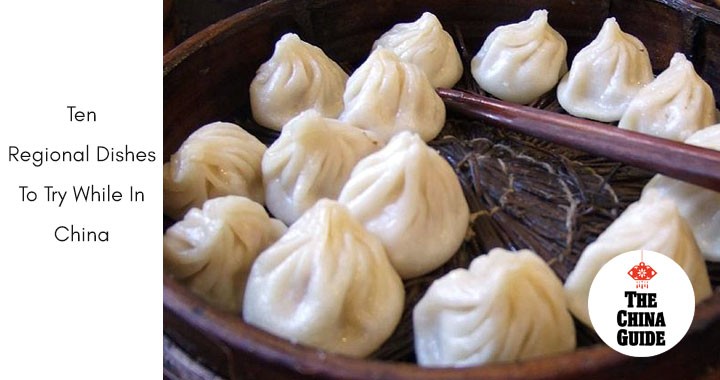 Visitors to China are often dying to explore the country's food scene, but many are surprised to find that the dishes they try aren't at all like those served at their local Chinese place at home. Even though you might not be able to find fortune cookies, China's cuisine features one-of-a-kind flavors and is incredibly diverse, reflecting the uniqueness and variety of the country itself.Below are some of the signature dishes we recommend trying in some of China's most visited cities and regions:

Beijing – Peking Duck
No visit to China's capital is complete without tasting the city's signature dish, Peking duck. Dating back to the imperial era, this dish consists of duck that is roasted in a clay oven and glazed with a sweet, Hoisin-like sauce.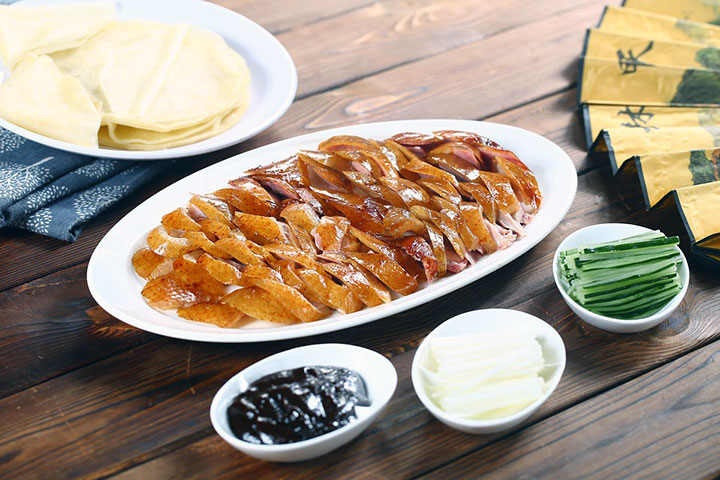 Traditionally, the duck is served sliced with shredded vegetables and steamed buns and eaten in the form of a sandwich. Because of the complicated and lengthy preparation process, Peking duck is mostly found in restaurants and isn't something that locals usually make at home.
Shanghai - Xiaolongbao
While Shanghai's food scene is booming and boasts a huge variety of delicious dishes, the quintessential local snack is xiaolongbao, a kind of bun or "soup dumpling" traditionally steamed in a bamboo basket.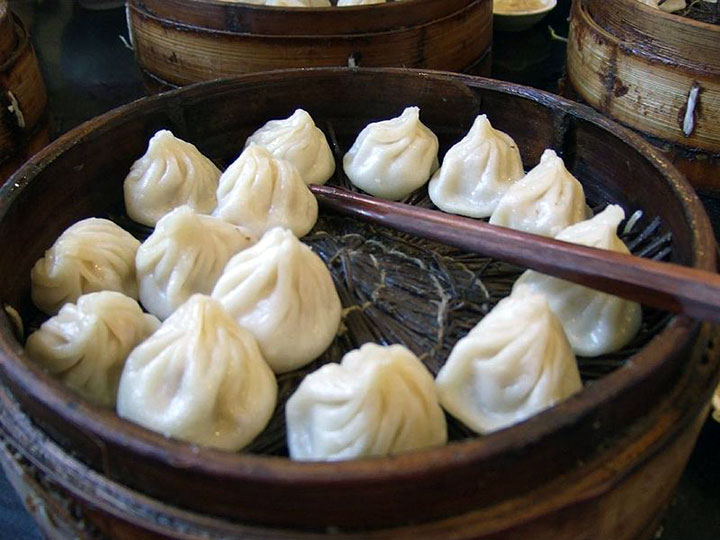 Xiaolongbao is a small, round dumpling made of fluffy dough that is filled with meat broth. The result is a delicious, savory, moist dough ball that can (and should!) be found all over Shanghai.

Xi'an (Shaanxi province) - Roujiamo
Roujiamo (literally "meat sandwich") is a specialty of Shaanxi province and particularly Xi'an, one of China's four ancient capitals and home to the famed Terracotta Army. Also known as a Chinese hamburger, roujiamo is made up of chopped meat inside a pita-like bun.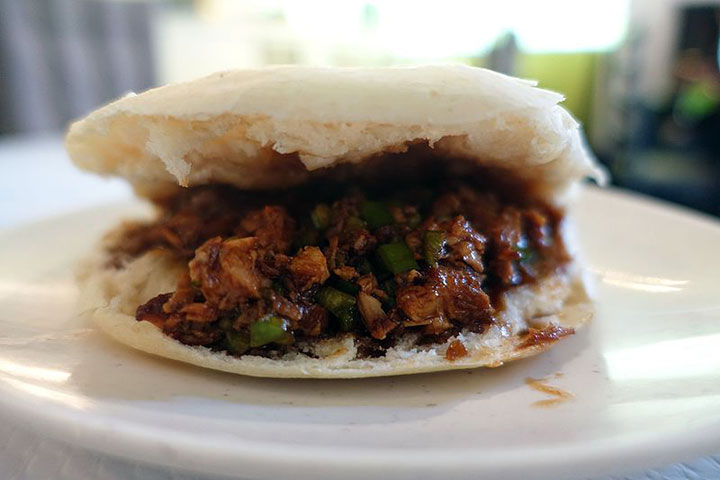 While traditionally filled with marinated pork, today's roujiamo come with a whole host of different fillings, including chicken, beef, and lamb, which are stewed in a delicious mix of herbs and spices. For an especially yummy interpretation of this popular street food, try the kebab-influenced version of roujiamo found in the Muslim areas of Xi'an.
Chengdu (Sichuan province) – Hot Pot
Sichuan cuisine is renowned for its spiciness, which largely comes from the unique and tongue-tingling flavor of the eponymous Sichuan pepper. If you make the sojourn to Sichuan's capital, Chengdu, you'll be expected to try the local favorite, hot pot, which is no exception to this trend. Chengdu residents love hot pot and eat it on the regular, so you will have no trouble finding many possible venues for trying this southern delicacy.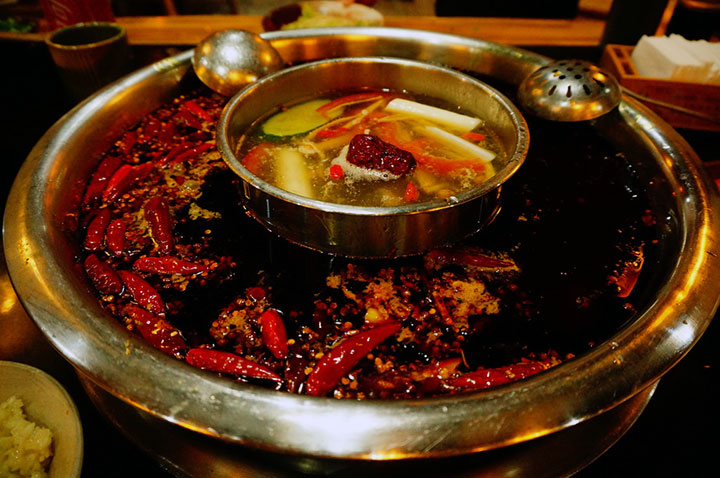 Hot pot, which is popular throughout China, consists of a variety of customizable ingredients that are cooked in a simmering pot of spiced broth at the table. Traditional ingredients include thinly sliced meat, tofu, seafood, mushrooms, noodles, and a variety of greens, which are accompanied by a dipping sauce of your choosing. For those who aren't so keen on spicy foods, many hot pot restaurants provide a two-sided pot with spicy Sichuan broth on one side and a plain or lightly flavored broth on the other.
Luoyang (Henan province) – Water Banquet
Luoyang's culinary claim to fame is not just one dish but, rather, an extravagant collection of dishes known as a Water Banquet. Made up of a set of 24 dishes served in a variety of different broths and gravies, the Luoyang Water Banquet is a traditional feast popularly served for special occasions (and at many restaurants throughout the ancient city) that dates back more than 1,000 years to the Tang dynasty. The feast features an array of delicious dishes, including stir-fried vegetables, sweet and sour pork, meatballs in soup, and more. Enjoying a Water Banquet while in Luoyang is a spectacular cultural experience you won't want to miss!
Hangzhou (Zhejiang province) – Beggar's Chicken
This history-laden and delectable dish originated in Hangzhou and has become a nationwide favorite, and for good reason! Beggar's chicken is prepared by stuffing a chicken, wrapping it in clay or lotus leaves, and cooking it over low heat for several hours, resulting in flavorful and incredibly tender meat. As local legend has it, Beggar's chicken is so-named because it was pioneered by a thief. As the story goes, the thief stole a chicken but had no equipment to cook it with, so he resorted to wrapping the meat in lotus leaves and mud and burying it in a hole with a low fire. From these modest beginnings, Beggar's chicken has grown into an internationally famed dish and remains a Hangzhou specialty.
Kunming (Yunnan province) – Crossing-the-Bridge Noodles
The historical southern city of Kunming has more than just ancient temples and beautiful scenery; it also has great food! And no dish is more beloved in Kunming (and all of Yunnan province) than crossing-the-bridge noodles. Crossing-the-bridge noodles get their name from an old legend about a wife who brought her husband, a scholar studying for the imperial exams on an island, a bowl of soup to eat for lunch everyday. By the time she crossed the bridge and reached him, however, the soup was cold. Her solution was to add a layer of oil to the soup broth to insulate it and store the other ingredients in a separate pot, resulting in the traditional noodle soup Kunming residents know and love today.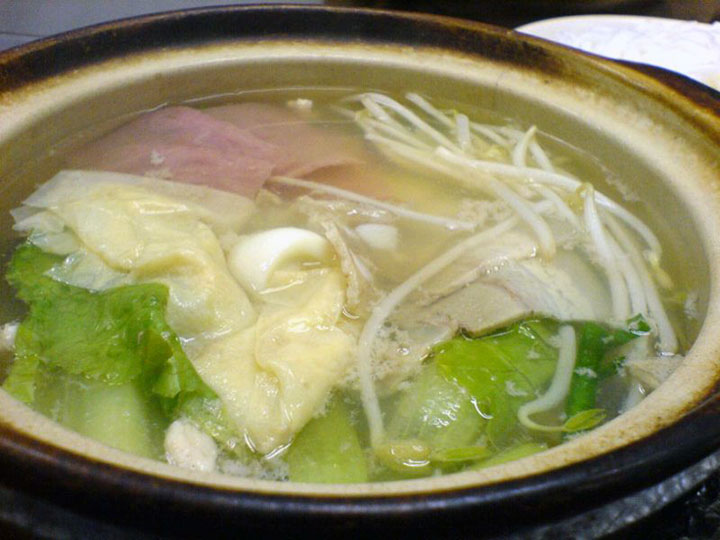 Common ingredients include thinly sliced turkey, chopped chicken, bean curd, sprouts, green onion, and (of course) rice noodles, which are all served separate from the broth to allow each diner to customize their bowl.
Nanjing (Jiangsu province) – Duck Blood and Vermicelli Soup
This former capital turned thriving metropolis is steeped in history and tradition, and its cuisine is no different. One of the most beloved traditional delicacies is duck blood and vermicelli soup, the pride of Nanjing.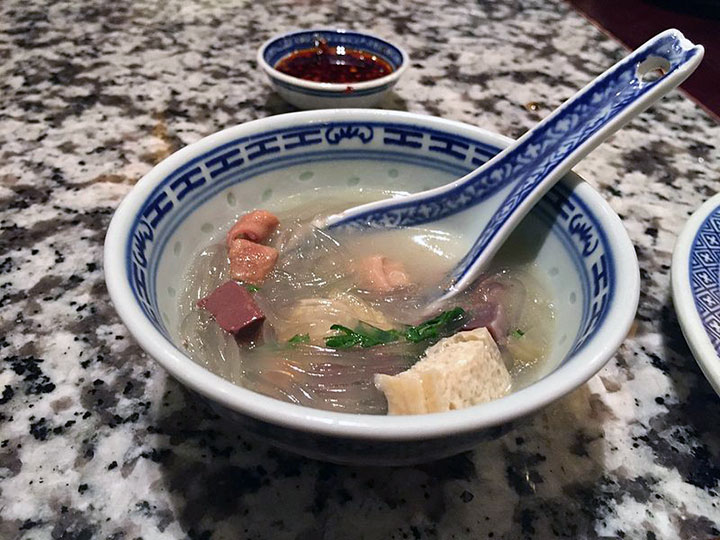 This dish is not for the faint of heart, however; its main ingredients are right there in its name. Curdled duck blood is stewed in broth in small cubes, along with duck gizzards, intestines, and liver. Other common additions include fried tofu, shrimp, shallots, and ginger, and let's not forget the other key ingredient: thin, sweet potato-based noodles called vermicelli. Don't let the unusual ingredients put you off: this dish is incredibly flavorful and one of a kind!
Guangzhou (Guangdong province) – Kao Ru Zhu
In the southernmost areas of China, including Guangzhou, Cantonese cuisine is the name of the game, and many of the dishes here are more similar to what you might see in a Chinese restaurant in the West. That said, Guangzhou has lots of tasty and unusual dishes for you to try if you're looking for something more exciting than your old standby. One of Guangzhou's most delicious signature dishes is kao ru zhu, or roasted suckling pig. This delectable and luxurious dish has a history that reaches back more than a thousand years. Kao ru zhu consists of a whole suckling pig that is coated in a savory marinade and slow roasted, making this Cantonese staple a distinctive and yummy treat.
Qingdao (Shandong province) – Spicy Grilled Squid
In the seaside city of Qingdao, home of the world-famous Tsingtao Brewery, seafood abounds! The city boasts a number of local seafood specialties, from seafood noodles to sautéed clams. Our favorite, though, is grilled squid, a popular item at both street vendor stalls and restaurants. Reminiscent of its deep-fried cousin, calamari, Qingdao's specialty squid is coated in an array of yummy (and spicy!) seasonings, barbecued on a grill, and served on a stick. ■
—
Hungry yet? Contact one of our travel specialists today to start planning your trip to China, so you can try these yummy dishes!

---
Images: Pixabay, Wikimedia Commons, Flickr