Its name literally translating to "Southern Capital", the city of Nanjing lies on the lower reaches of the Yangtze River and is the capital of Jiangsu province. Nanjing was the capital of the Ming dynasty and later the Republic of China, before Beijing (Northern Capital) took that crown away.
Things to Do and Travel Advice
While the Great Wall is an instantly recognizable icon, not many people have heard about Nanjing Ming City Wall, which is the longest circular city wall in the entire world. Built between 1366 and 1386 by Ming dynasty emperor Zhu Yuanzhang to protect the founding capital of the Ming Dynasty, the original city wall was 35 kilometers long. About 25 kilometers of the original structure remain today. The wall is an average of 12 meters tall and 7 meters wide.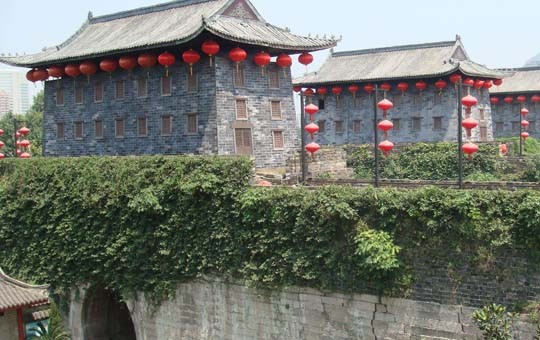 Nanjing was also the birthplace of the Republic of China, whose founder Sun Yat-sen is buried there in an 80,000-square-meter mausoleum. In order to reach Sun Yat-sen's mausoleum, visitors must first climb 392 steps.
Another of Nanjing's landmarks is the Confucius Temple, also known as Fuzimiao, first built in 1034 to venerate and study the famous Chinese philosopher's works. During the Ming dynasty, the temple was used as the imperial examination hall. Over the course of its history, the Confucius Temple has been destroyed and rebuilt several times, and it was last renovated in 1984. The modern temple holds a 4.18-meter-high, 2.5 ton bronze statue of Confucius.
Nanjing was also the scenario of one of China's most tragic and darkest episodes: the Nanjing Massacre. The Memorial Hall of the Victims of the Nanjing Massacre was built to commemorate those who lost their lives in some of the most horrific crimes ever committed in China. There are photos, documents, weaponry, testimonies from survivors, and a mass grave in the Museum.
For those looking to get back to nature, Nanjing also offers several options. Xuanwu Lake Park, a 472-hectare natural reserve surrounded by water, is located in the middle of the city. The park used to be China's largest imperial lake garden.
One of Nanjing's biggest highlights are its hot springs, which are not well known outside of China. Just an hour drive east of downtown lies Tangshan, home to some of the best hot springs in China. Tangshan has several spas and resorts for travelers who would like to spend some time relaxing away from the rapid rhythm of city life.
Best Times to Visit
Nanjing is a fabulous destination to visit at any time of the year; spring sees beautiful plum blossoms erupt across the city, while autumn offers some of the most attractive foliage in eastern China; summer is all about lotus leaves, while winter is the best time to relax in Tangshan soothing hot springs.