Best Places to See Amazing Fall Colors in China
Dernière mise à jour le 2019-04-04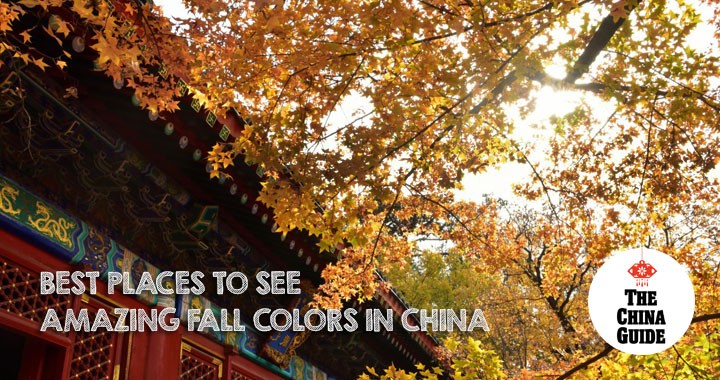 Fall is the perfect season to visit China. Temperatures are mild and pleasant, the weather is mostly sunny, and the air is clear. The other benefit of traveling to the Middle Kingdom in autumn? Getting to see vibrant fall colors everywhere you go.
China's beautiful natural landscapes are even more stunning in the fall, and pretty much anywhere with trees will be worth seeing. But we have a few favorite destinations that are simply unmissable due to their fantastic multicolor displays come autumn.
The Great Wall
The Great Wall of China is a spectacular sight in any season but is even more impressive in the fall, when the undulating, tree-covered hills on either side of the wall are blanketed with different shades of red, yellow, and green.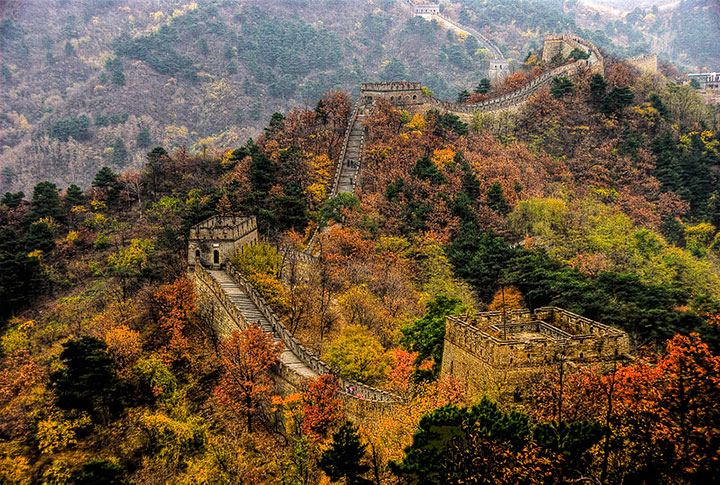 This UNESCO World Heritage Site is one of China's most famous attractions, and stretches some 5,000 miles across the northern part of the country. The Great Wall should not be missed no matter what time of year you visit, but be sure to make it a priority if you'll be in China during the fall months. Your camera will thank you for the amazing photo opportunity.
Best time for viewing: mid-October to early November
The Yellow Mountains/Huangshan
The Yellow Mountain Scenic Area, located in Anhui province in central China, is famed for its unbeatable views and scenic hikes. A popular tourist destination all year long, the Huangshan mountains are famed for their jutting granite peaks and have served as inspiration for Chinese artists for centuries.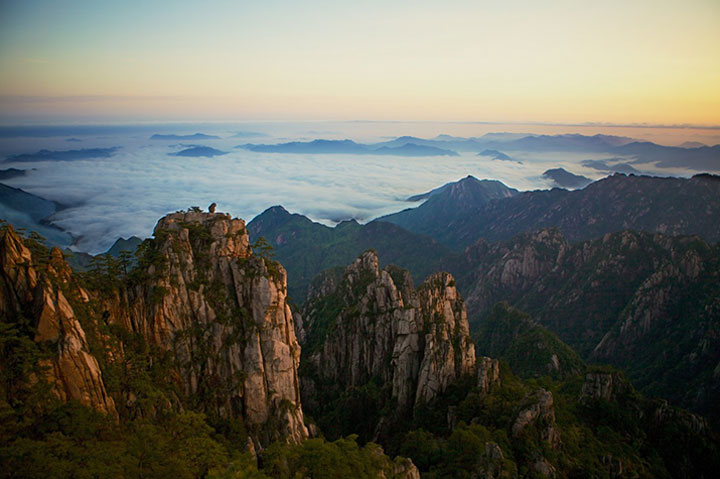 No matter the season, the variety of trees clinging precariously to the faces of Huangshan's jagged mountains are well worth seeing, and these trees put on a particularly dazzling show in the fall. In the autumn months, the foliage lights up in various hues of yellow, orange, and fiery red, due to the area's healthy population of maples. These unique fall colors make the famous scenery of the Yellow Mountains all the more amazing.
Best time for viewing: mid-October to early November
Red Beach in Panjin
Not all of China's fall colors are found in the forest. In fact, one of the country's most extraordinary autumn spectacles is totally treeless. North of Beijing on the coast of the Yellow Sea lies the world's largest reed marsh, which puts on a particularly stunning display in the fall months when its reeds turn deep red, earning this spot the name "Red Beach."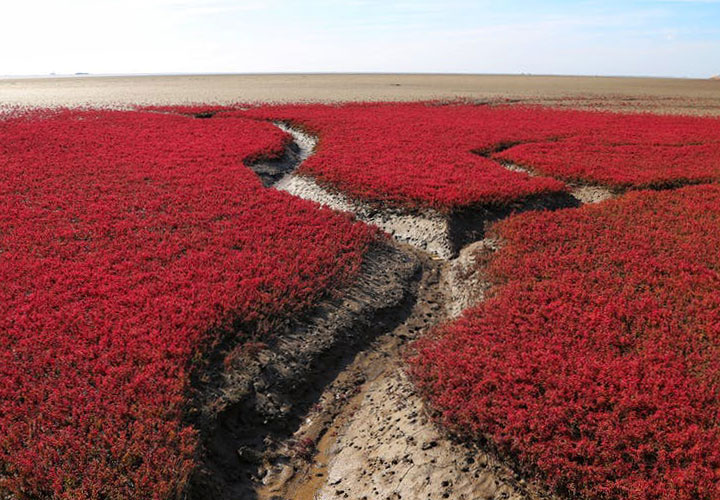 The unique reeds of Red Beach start growing in early spring but are most colorful when they reach full maturity in early autumn. The vivid sea of reeds, stretching as far as the eye can see, makes for one of the Middle Kingdom's most amazing sights.
Best time for viewing: September to early October
Jiuzhaigou National Park
This large national park, located in the northern reaches of Sichuan province, is famous for its colorful mineral pools, which are filled with shimmering, bright turquoise water the whole year. Jiuzhaigou is an even more spectacular sight in autumn, when its hillsides are covered with beautifully vibrant fall foliage.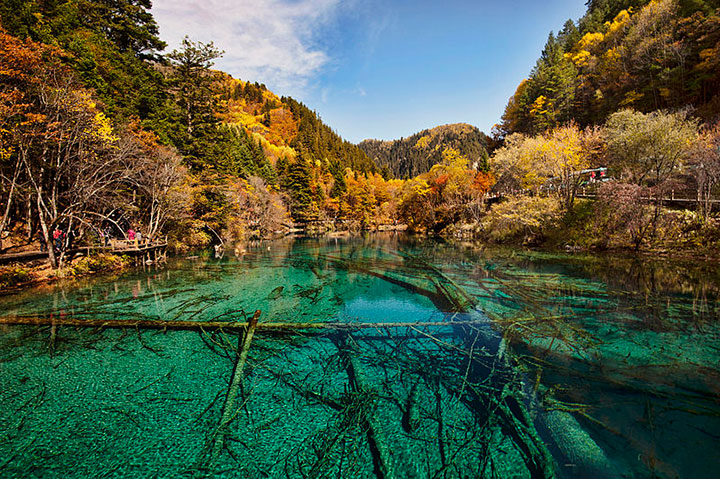 The contrast of colors is truly breathtaking and should not be missed if you are lucky to be traveling in China during the fall.

Best time for viewing: mid to late October
Longji Rice Terraces
One of China's most quintessential scenes, the hilly landscapes and terraced hills of the Longji rice fields are a special sight to behold whenever you visit. In the springtime, you can see the rice terraces filled with water, a beautiful view in its own right.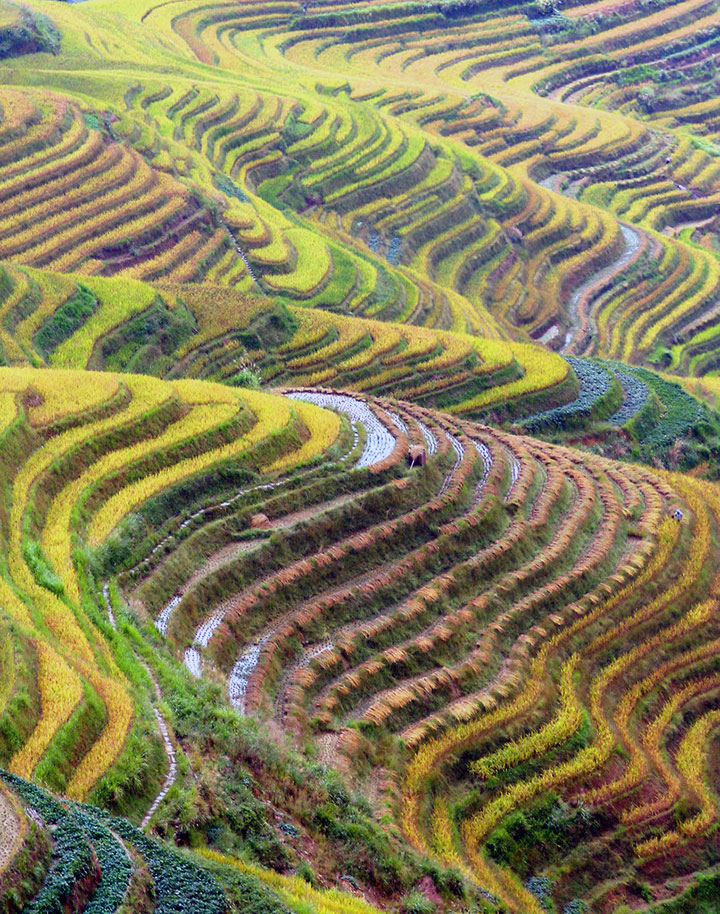 Many visitors opt to visit the Longji Rice Terraces in fall, however, when the winding, multi-level rice paddies turn bright yellow, covering the normally green countryside in stripes of vibrant color.

Best time for viewing: late September to early October
Important Note
While fall is a particularly picturesque time to go to China, avoid planning your visit during the week of Chinese National Day (the first week in October), as this is China's most popular travel time and all of its tourist sites will be packed. ■
—
Want to appreciate China's amazing fall colors in person? Contact one of our travel specialists today to get started.

---
Images: Flickr (Francisco Diez, gill_penney), PxHere, Pexels, Wikimedia Commons