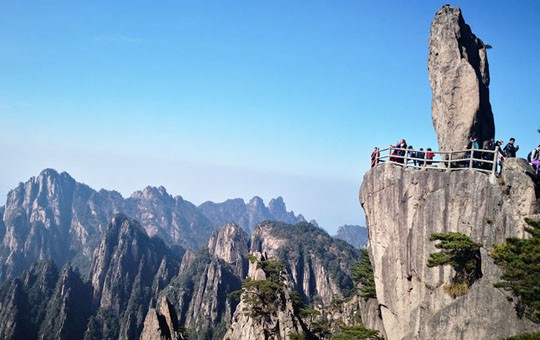 Huangshan Mountain, also known as "Yellow Mountain", is widely considered to be one of the most naturally beautiful landscapes in all of China and a frequent subject of traditional Chinese paintings and modern photography. The range is famous for its scenery such as sunrises/sunsets, peculiarly-shaped granite peaks, Huangshan pine trees, and the sea of clouds. Mt. Huangshan was listed as a World Heritage Site by UNESCO in 1990.
Highlights and Travel Tips
About 500 km (310 miles) or a 2.5-hour bullet train ride southwest of Shanghai, Huangshan Mountain spreads over a large area with many peaks and viewpoints. The three tallest and best-known peaks are Lotus Peak (Lianhua Feng, 1,864 m or 6115 ft), Bright Summit (Guangming Ding, 1,860 m or 6102 ft), and Celestial Capital Peak (Tiandu Feng, 1,829 m or 6000 ft).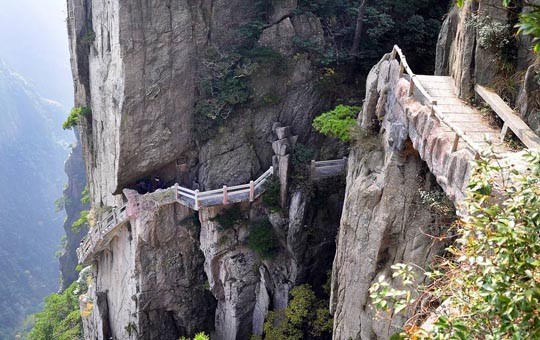 The West Sea Canyon, or Xihai Great Canyon, is one of the best hikes on Huangshan. It is a loop trail that follows the rim of the West Sea valley. Walking the whole West Sea Canyon circuit will take around five hours. There is a monorail that takes visitors from the bottom of the valley back to the top. That said, the half-loop hike still takes about two and a half hours. For visitors who don't have enough time or just don't want to hike so much, they can walk a part of the trail to take in the scenery of the valley and then exit from where they enter. The Cloud Dispersing (Paiyun) Pavilion, near the entrance of the Canyon, is a good place to enjoy a panoramic view of the whole West Sea Canyon.
Apart from the three highest peaks and the West Sea Canyon, other scenic peaks and viewpoints include Shixin Peak (Begining-to-Believe peak), Flying-Over Rock, Lion Peak, etc.
Being a large area to explore, it's important to do some planning as to which routes to walk as it's hard to fit everything in a day or even two. If you are traveling on one of our guided tours, your guide will suggest which cableway to take and what sights to visit based on your time, preference and level of fitness, as well as the realtime crowd's information.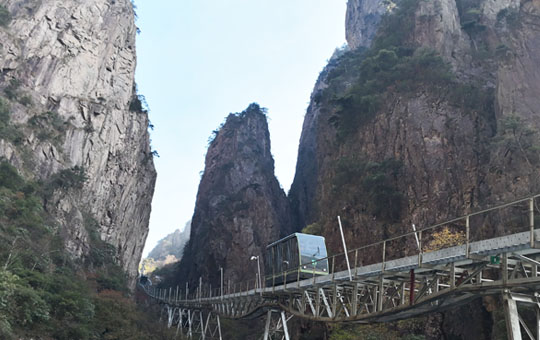 There are three cableways (Yungu, Taiping Telpher, and Yuping) that can take people halfway up. After that, visitors need to hike to different viewpoints on the mountain top. Alternatively, one can avoid the cableway and hike up the mountain, but the hikes are strenuous and can take up to 3 hours, and involve thousands and thousands of steps. We strongly recommend visitors to take the cable car up to save some energy which can be used for hiking once on the mountain top, which is less strenuous and, most importantly, super scenic. Remember, "hiking" on the Yellow Mountain means walking on a paved path and climbing up and down stairs. Visitors should wear comfortable hiking shoes.
You will see many porters going up and down with heavy loads, with whom you should cooperate by moving out of the way. There are small stalls on the mountain selling snacks, drinks, and even hot food at increased prices. If you want to have a formal meal while at the top, you can go to one of the hotel restaurants. Toilets along the hiking paths are clean. A word of warning for visitors is to pay attention to the cable car schedule. If you miss it, you will have to walk 2 to 3 hours down the mountain.
Those who would like to enjoy the sunrise/sunset on Mt. Huangshan need to stay overnight at the top. There are several hotels on the mountain, but we consider the best one to be the West Sea Hotel. Be aware that accommodation at the top is expensive. Also, you must book in advance if you'll be traveling during peak season. If possible, we recommend carrying only an overnight backpack and leaving larger volumes of luggage in your hotel downtown or at the checkroom at the foot of the mountain.
Travelers can also spend the night in Tangkou village at the foot of Mount Huangshan and go for an early hike the next day. There are multiple hot springs at the foot of the mountain where you can relax before or after climbing the mountain.
Best Time to Visit
Because of the comfortable temperatures, it is recommended to visit Huangshan from April to November, but the mountain is beautiful all year round. During winter, visitors will have a higher chance to observe a sea of clouds, and if you are lucky snow can turn the mountain into a silver world, making the scenery breathtaking.
Being a popular site in China, you should avoid visiting during the Chinese holidays, and also during the school break months of July and August, periods in which the mountain is typically crowded.
Please be aware that parts of the Yellow Mountain, such as West Sea Grand Canyon, Lotus Peak, and the Celestial Capital Peak, may occasionally be closed due to bad weather (particularly in the winter) or for maintenance.
How to Get There
Huangshan Scenic Area is about a 1-hour drive from downtown Huangshan city. There are buses from Huangshan North bullet train station and Huangshan city bus station to the Zhaixi bus transfer center in Tangkou town, where travelers need to take the scenic area's shuttle bus to Ciguangge (Front Mountain) or Yungusi (Back Mountain) ticket offices.
Private cars are not allowed to enter the mountain, so visitors driving need to park their cars near the Zhaixi transfer center and then take the scenic area's shuttle bus to the ticket offices.
Opening Hours
Scenic area: 6:20 AM - 5:30 PM (Mar 2 to Oct 31); 7:20 AM - 4:30 PM (Nov 1 to March 1)
Cable cars: 6:20 AM - 5:40 PM (Mar 2 to Oct 31); 7:20 AM - 4:40 PM (Nov 1 to March 1)
Average time for this activity: 1 to 2 days
Ticket Prices
Huangshan Scenic Area ticket: 190 RMB (Jan 21 to Nov 19) / 150 RMB (Nov 20 to Jan 20)
Shuttle bus ticket (round trip): 19 RMB
Yungu/Taiping cable cars ticket (single trip): 80 RMB (Jan 21 to Nov 19) / 65 RMB (Nov 20 to Jan 20)
Yuping cable car ticket (single trip): 90 RMB (Jan 21 to Nov 19) / 75 RMB (Nov 20 to Jan 20)
West Sea Canyon tram (single trip): 100 RMB (Jan 21 to Nov 19) / 80 RMB (Nov 20 to Jan 20)
Popular Tours