Huangshan City is a prefecture-level city in southern Anhui province. In Chinese, Huangshan means Yellow Mountain, which refers to the city's famously scenic Yellow Mountain range, one of China's major tourist destinations. Mount Huangshan was listed as a World Heritage Site by UNESCO in 1990.
Things to Do and Travel Advice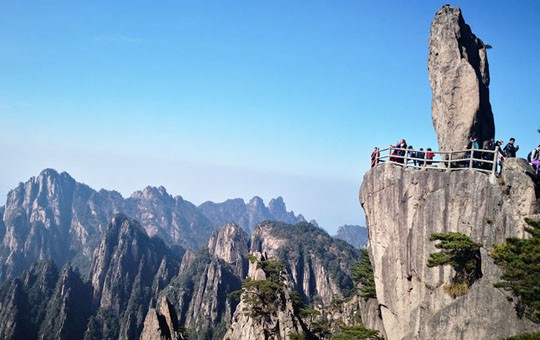 Offering one of the most beautiful landscapes in all of China, Huangshan mountain is a top attraction and a frequent subject of traditional Chinese paintings, literature, and modern photography. The range spreads over a large area with many peaks and viewpoints and is famous for its scenery, such as sunrises/sunsets, peculiarly-shaped granite peaks, Huangshan pine trees, the famous sea of clouds, and snow-covered landscapes in the winter. Most visitors spend one or two days on the mountain.
Besides Mount Huangshan, there are some ancient villages nearby Huangshan city with well preserved old houses which offer a precious glimpse into ancient China. Among those, the idyllic villages of Hongcun and Xidi stand out for their long history and concentration of well-preserved houses of the Ming (A.D. 1368 - 1644) and Qing (A.D. 1644 - 1911) dynasties, and therefore were collectively declared as a UNESCO World Heritage Site in 2000 and are worth a visit too.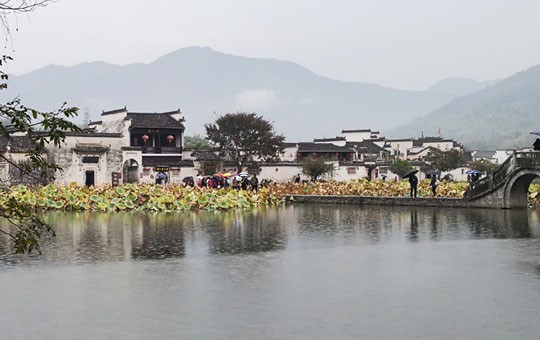 For most visitors to Huangshan, exploring the mountain and one of the ancient villages should be enough. If you have more time, though, there are other places you can visit, such as Tunxi Old Street, a historic commercial street flanked by traditional Hui-style houses and now a picturesque shopping street. Other places include some less-visited ancient villages, Mukeng bamboo forest, and Qiyun Mountain.
Eating in Huangshan
While exploring the quaint towns and villages of Huangshan, you will have numerous opportunities to taste Anhui cuisine, one of China's eight main culinary traditions. Popular local specialties include mao tofu, otherwise known as "stinky" tofu, and stinky mandarin fish.
It is also a good idea to try the local tea, including Huangshan's famous Maofeng green tea and chrysanthemum tea (gongju).
On top of Huangshan Mountain, food options are limited. If you are looking for a formal meal, you will have to go to one of the expensive hotel restaurants.
Best Time to Visit Huangshan
Like most of China, spring and autumn are the best seasons to visit Huangshan. A visit in late March or April will allow you to enjoy the rare sight of beautiful rapeseed flowers in bloom. In September and October, you get to see Huangshan's famous chrysanthemums blooming, in addition to the lovely autumn colors.
Although beautiful all year round, we don't recommend visiting Huangshan between December and February since it's very cold and some trails will be closed. Summer is warm but not too hot and is a great time to see the characteristic mist-enshrouded mountains. However, Huangshan sees most of its rain in the summer months, so be sure to bring a raincoat and watch for slippery trails.
Being one of the most popular attractions in China, you should avoid visiting during all public Chinese holidays when the mountain is usually crowded with domestic tourists.
Transportation
High-speed train service has been extended from Shanghai to Huangshan since 2018. The high-speed trains to Huangshan take roughly 3 hours from Shanghai and about 6 hours from Beijing. Huangshan also has a medium-sized airport that offers frequent flights to/from several cities throughout China, including Shanghai, Beijing, Chengdu, and Guilin.
Once in the city of Huangshan, bus, car, or taxi are the best ways to get around. There are buses from the Huangshan Bus Station and Huangshanbei (Huangshan North) highspeed train station to Tangkou, where visitors can take a shuttle bus to the cable car stations of Huangshan Mountain.
Huangshan Private Tours