The Huangshan mountain range, otherwise known as Yellow Mountain, is one of China's most exceptionally beautiful landscapes. Huangshan's jagged, pine-covered peaks have been the subject of countless paintings and poems throughout China's history, and are home to some of the most idyllic and fascinating ancient villages in the country.
Huangshan's mountain trails are incredibly scenic and often enshrouded in mist, bringing a sense of mystery to any visit. Upon reaching the summit, it is easy to be overcome with tranquility as you enjoy the impressive views while surrounded by the calming scent of pine and the cool mountain breeze.
Things to Do and Travel Advice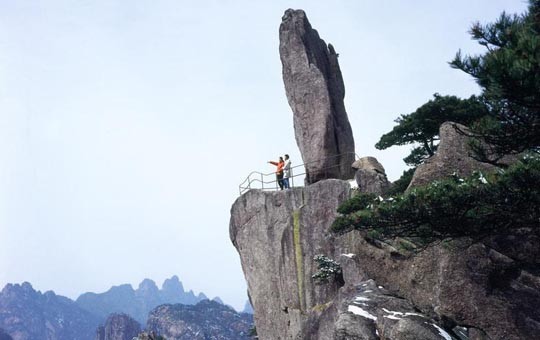 Huangshan Mountain is a scenic area that is actually made up of 36 separate peaks, which can be climbed by foot or cable car. The challenging hike up the mountain, although strenuous, is one of the most famous treks in China. For those willing to hike their way up, or who want to get up early enough to catch the spectacular view of the sun rising over the mountains, there are great places to stay overnight on the summit.
The West Sea Canyon hike, in particular, is one of Huangshan's most spectacular treks and follows a loop of moderate difficulty around the canyon. This trail affords unparalleled views of the canyon and surrounding peaks and can be completed in a day. Many visitors opt to take the cable car up the mountain and take the 3-hour West Sea Canyon trail down the mountain. The trail is closed in the winter, so keep this in mind when planning trips to this area.
Huangshan Mountain is one of the most visited locations in China, so be prepared for crowds. If you wish to take the cable car up the mountain, it's best to do so early in the morning to avoid long lines.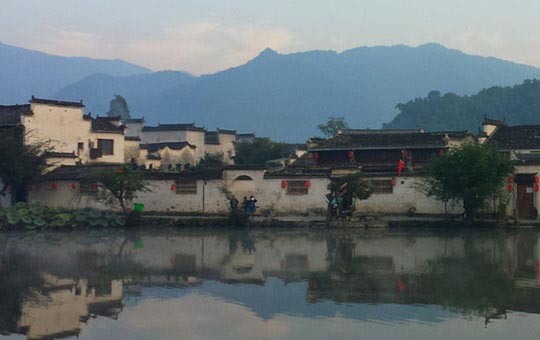 The villages that dot the lush green countryside around Huangshan offer a precious glimpse into old China. The merchants of southern Anhui province, known collectively as the Huishang, were renowned for their economic prowess during the Ming and Qing dynasties. They used their fortunes to build large, elaborately decorated residences, many of which are still standing today in villages throughout the Wuyuan County countryside. Among them, the idyllic mountain villages of Xidi and Hongcun were declared UNESCO World Heritage Sites in 2000 and are definitely worth a visit. Tunxi's Old Street also makes for a nice place to stroll and offers some great accommodation.
While these villages are becoming more popular with Chinese tour groups, the maze of cobbled streets, lavish ancestral halls, quaint bridges, and beautiful ponds are numerous enough to find a peaceful moment to yourself. Chock-full of culture, history, and great local food, not to mention stunning mountain vistas, this corner of China is a magical place for any visitor.
Eating in Huangshan
While exploring the quaint towns and villages that surround Huangshan, we strongly suggest trying the local tea. Anhui province's Maofeng green and Huangya yellow teas are highly sought after across China, as is the Huangshan chrysanthemum tea (gongju).
These ancient villages also offer numerous opportunities to taste Anhui cuisine, one of china's eight main culinary traditions. Popular local specialties include mao tofu, otherwise known as "stinky" tofu; baked dumplings stuffed with vegetables and pork known as yellow crab shell cakes; and Luzhou roast duck, considered a gourmet delicacy in Anhui.
Transportation
Huangshan is well connected to major cities by both air and railway. The high-speed train to Huangshan takes about 6.5 hours from Beijing and roughly 4 hours from Shanghai. Huangshan also has a medium-sized airport that offers regularly scheduled flights to several cities throughout China, including Shanghai, Beijing, Chengdu, Guilin, and more.
Once in the city of Huangshan, bus, car, or taxi are the best ways to get around. Buses from the Huangshan Bus Station to the Yellow Mountain Scenic Area operate every five minutes throughout the day, but it's easiest to travel to the nearby towns and villages by car.
Best Time to Travel to Huangshan
Huangshan is beautiful year round, but because some trails are closed during winter, we don't recommend visiting from December through February. Summer is warm but not too hot, due to the elevation, and is a great time to see the characteristic mists enshrouding the mountains. Huangshan sees the majority of its rain in the summer months, however, so be sure to bring a raincoat.
Like most of China, spring and autumn are the best times to visit Huangshan. A visit in late March or April will allow you to enjoy the rare sight of the area's beautiful rapeseed flowers in bloom. September or October is also a nice time to visit, as you will get to see the Huangshan's famous chrysanthemums blooming, in addition to lovely fall colors.
Popular Huangshan Tours: