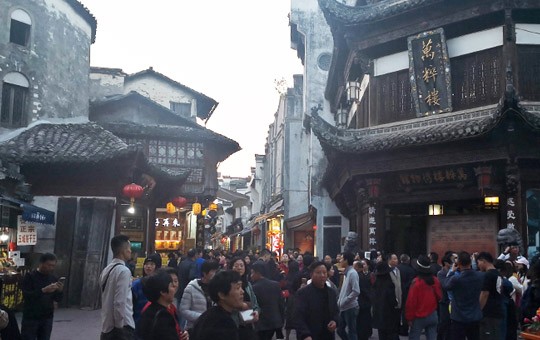 Situated in the center of Huangshan city, Tunxi Old Street, or Tunxi Ancient Street is a historic commercial street flanked by traditional Hui-style houses. Today, the houses are either well-preserved or renovated in the old style, making the street a popular and picturesque tourist site.
Highlights and Travel Tips
Although the old houses along the street make for a good photo opportunity, like many other old streets in China, Tunxi Old Street is more like a shopping place for tourists. Most houses are used as shops, restaurants, and guesthouses. While touristy and crowded, this picturesque street is still interesting for an afternoon stroll, to pick up souvenirs and sample local snacks and food.
While strolling down the street, you will find shops selling calligraphy and other art materials, wood carvings, tea, snacks, etc. Some shops demonstrate how local food is produced in traditional ways and encourage passers-by to taste it. Some even let you try your hands at making their craft, like Chinese calligraphy brushes. Shops along the street are somewhat repetitive, with the advantage that you can compare prices before deciding where to buy.
At the western end of the old street, there is an ancient bridge, named Zhenhai, which was originally built in 1536 and deserves a quick visit.
Opening Hours and Ticket Prices
Opening hours: all-day
Entrance fee: free
Average time for this activity: 2 hours
Popular Huangshan Tours