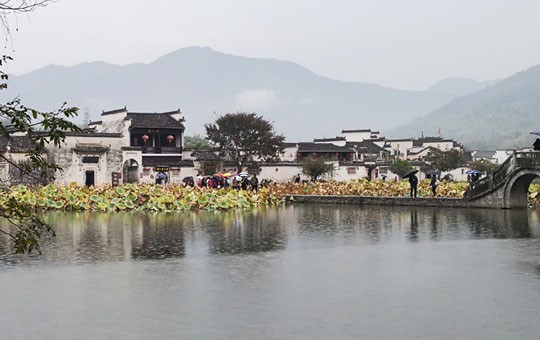 The merchants of southern Anhui province, known collectively as the Huishang or Hui merchants, were renowned for their economic power during the Ming and Qing dynasties. They used their fortunes to build large, elaborately decorated houses that feature a style unique to this part of China. Many of these Ming and Qing houses are still standing today in the villages nearby Huangshan city.
Among those, the idyllic villages of Hongcun and Xidi stand out for their long history and concentration of well preserved ancient Hui-style houses. Hongcun and Xidi were collectively declared as a UNESCO World Heritage Site in 2000 and are worth a visit for travelers to Huangshan area.
Hongcun Ancient Village
Hongcun is a picturesque village with a history of about 900 years. During the Ming (A.D. 1368 - 1644) and Qing (A.D. 1644 - 1911) dynasties, economic prosperity led to the construction of many impressive houses. Today there are 138 well-preserved Ming and Qing residences still standing in the village.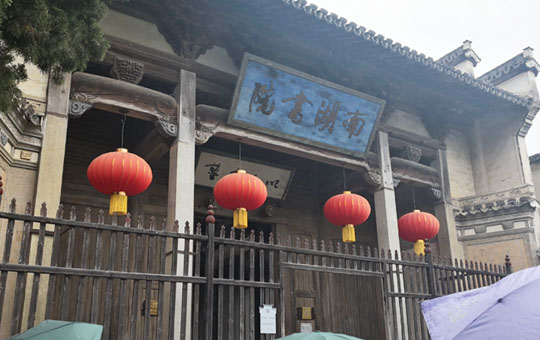 Having been featured in the Oscar-winning movie "Crouching Tiger, Hidden Dragon", Hongcun is probably the most well known Huizhou village today. Any visit to this ancient village should include the South Lake, South Lake Academy, Moon Pond and Chengzhi Hall. The South Lake at the entrance of the village and the Moon Pond at its center are two of the most photographed spots. South Lake Academy and Chengzhi Hall are the two most outstanding complexes of Hui-style buildings in the village.
Xidi Ancient Village
About 10 km (6,2 miles) to the south of Hongcun, Xidi is another famous Huizhou ancient village. Xidi has 124 well-preserved wooden houses from the Ming and Qing dynasties, featuring exquisite wood, brick and stone carvings. Today, some of these residences are open to the public, and among them, the Da Fu Grand House, built during the Qing dynasty, is an outstanding example of Hui-style architecture. Outside the village, the Hu Wenguang Memorial Archway, built during the Ming dynasty in memory of an official named Hu Wenguang, is an important landmark and a must-see for visitors to Xidi.
Which Village to Visit and Travel Tips
For most visitors who want to get a glimpse of traditional village life and see examples of Hui-style folk architecture, visiting one of the villages is enough, and we recommend Hongcun because of its outstanding architecture and scenic water bodies. Note that both Hongcun and Xidi are packed with tourists. Visitors who want to avoid the crowds can veer off into the smaller and less visited alleys. There are many small shops where you can buy souvenirs and try local food.
Apart from Hongcun and Xidi, there are other Hui-style ancient villages nearby, such as Chengkan, Tangmo, Lingshan, Bishan, and Tachuan. These are not as well known as Hongcun or Xidi, so they have fewer tourists. Visitors who would like to explore more villages and avoid crowds can visit one or more of these villages. It might also be a good idea to spend the night in one of these villages to enjoy some quiet strolls in the afternoon and morning.
How to Get There
There are buses from Huangshan Bus Station/Huangshan North Railway Station/Tangkou(Huangshan Mountain) to Hongcun/Xidi.
Opening Hours and Tickets Prices
Hongcun: 7:30 AM - 5:30 PM, CNY 104
Xidi: 7:30 AM - 6:00 PM, CNY 104
Popular Tours