Best and Worst Time to Travel to China
Last updated on 2020-05-07

There are several things to consider when planning a trip, and perhaps some of the most important ones are the season and the weather. Some people decide to travel on certain dates because there's something happening at their intended destinations, or because they want to make the best out of a certain season.

When it comes to China, before deciding the best time to visit, it's important to know when NOT to travel in China. So let's get that out of the way first.
Worst Time to Visit China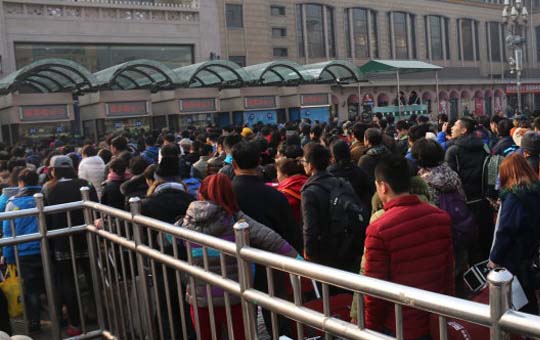 Spring Festival Travel Rush
It's simple: Avoid every single public Chinese holiday. This is a little bit tricky since some of them follow the lunar calendar and vary from year to year. However, they're still around the same months so we can roughly estimate them.
The first date to avoid is Spring Festival, also known as Chinese New Year or Chunjie. This is China's most important holiday, with millions of Chinese on the move all over the country.
Getting a flight ticket will be more expensive, finding a train ticket will be nearly impossible, and tourist attractions will be packed with visitors from all over China. So for travelers seeking to take their time at China's landmarks, Chinese New Year is definitely not the time to visit.
While many big shops and chains remain open during Chinese New Year in big cities like Beijing and Shanghai, many places in China will close for at least a couple days or even a week. So, there will be many missed opportunities to enjoy a small Chinese eatery, and countless other more traditional venues.
Chinese New Year normally happens around mid to late January or early to mid February. While many Chinese people use Spring Festival as an opportunity for an overseas trip, most of the traveling takes place within the country, resulting in the biggest annual mass migration in the whole world.
Another time to avoid visiting China is the week of National Day, or Golden Week, which takes place from the 1st to the 7th of October. While the number of people on the go during this period is lower than during the Chinese New Year, "lower" is still a lot in China.
Since many Chinese travelers use Golden Week to travel abroad, other countries such as Thailand and Japan experience a surge in Chinese tourists, which means that the prices for tickets to these countries often rise too.
If traveling around these dates is unavoidable, it's best to book everything well in advance (at least a month before) and be prepared to pay extra for pretty much everything.
As for other dates such as Qingming, the Lantern Festival, and the Dragon Boat Festival, traveling to China and within the country should be fine, with slightly larger crowds at some sites.
Read more tips about how to avoid the crowds when traveling in China here.
Best Time to Visit China
Deciding on the best time to visit China is a harder task to tackle, since China is such a huge country with diverse climates. The rule of thumb, in general, is that spring and autumn are the best times to visit China. Any time from March to May and from September to early November are the best moments to plan a great trip.
One way to help you decide when to visit is to divide China between regions and seasons.
Spring is a good time to travel pretty much all over the country. Some places, mostly in the north, may still be cold during early spring, but the weather should be manageable.
The most notable exception is Tibet, which is closed to foreign visitors for about two months every spring. Since the time may vary from year to year, you may get in touch with one of our travel specialists for the most up-to-date information if you are planning a trip to Tibet.
April through June are probably the best months to visit just about anywhere in China.
The mid summer is a great time to visit Tibet, Hainan, and some places in northern China. There are, however, other places that will get almost unbearably hot in the summer, and travelers sensitive to high temperatures should keep this in mind.
Southern China has a subtropical climate, and the summers are wet and humid, while temperatures can rise up to 40°C. Some places that are best to avoid during the summer include Chongqing (Sichuan), Nanjing (Jiangsu), and Wuhan (Hubei). The northern part of China, including Xinjiang, Dongbei, and Inner Mongolia, can also get extremely hot during the summers.
Another thing you may want to consider is the rainy season. If you plan to travel in southern China (especially Guilin) from April to August, be prepared for the possibility that your flight will be delayed or canceled due to bad weather. At this time of year, you may want to consider traveling via high-speed trains, which are fast, comfortable, and rarely delayed.
In July and August, as in much of the world, many students are out of school on summer break, and families have more time to travel. The summers are thus another busy season for Chinese people to visit various attractions. Foreign visitors can expect higher prices and should plan their travels well in advance.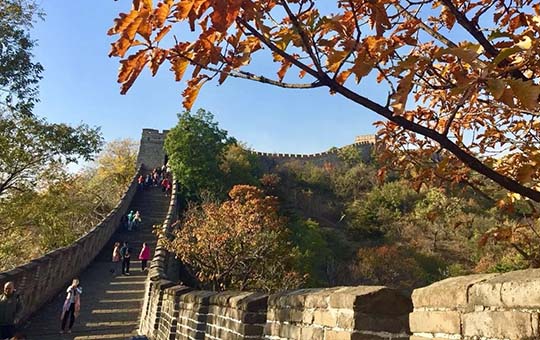 The Great Wall in Autumn
Autumn is also a good time to visit places that are otherwise terribly hot, such as Xinjiang, where the leaves changing color offer a spectacular view, and Hong Kong, which is usually quite humid during the summer. Fall is a particularly picturesque time to explore the Great Wall and see it bathed in autumn colors.
It's advisable to bring some warm clothes when visiting China in the autumn, as evenings and mornings can get chilly. Also, travelers should keep in mind that it's best to travel to China at least one day after the National Day holiday.
Although the winter remains the least favored choice for traveling, China has a lot to offer for those who can get past the cold. With cheaper fares and fewer crowds, the winter can definitely pay off.
The Harbin Ice Festival is the largest of its kind, and it's worth trying to brave the cold to experience it. The festival runs during the dead of the winter, from December 24th until February 25th. The snow and ice sculptures' scale is mesmerizing, and they make for an amazing picture when they're illuminated at night. It's extremely important to bring warm clothes as temperatures in Harbin can fall to -24 °C at night, and they never rise above zero during the day.
Surprisingly, Tibet is also a good candidate for winter traveling. During the high season, travelers can spend just a limited time visiting the Potala Palace; however, they can stay for as long as they want when they come in the winter.
The Tibetan capital, Lhasa, has warmer winters than Beijing, where the temperatures don't raise from below zero Celsius. As if that wasn't enticing enough, traveling to Tibet during the winter can also be a much economical option than heading there during the peak season, and permits to enter the region are also easier to obtain. Many pilgrims arrive to Tibet during those cold days too, which offers for a very authentic experience.
Summary
Every season has its pros and cons, plus many famous attractions in China earn their fame by their rich history and amazing architecture which are not much affected by seasons, so visitors should think of how far they're willing to step out of their comfort zone to plan their trips accordingly.
When you are planning a trip with us, our travel specialists will also give you suggestions based on their experience. During your tour in China, our guides will be flexible and may suggest changes on the sequence of your visits based on the most recent information they have, like weather and crowds. All we want is to provide the best travel experience possible in China.
Reading about our customers' favorite times to visit China in 2018 here.
—
The China Guide is a Beijing-based travel agency that customizes private tours, educational student tours, and incentive trips across China. We have more than ten years of experience crafting tours for tens of thousands of travelers from the United States, Canada, Australia, the United Kingdom, Germany, France, Spain, and beyond. We promise all our tours have no hidden fees, no shopping stops, no touristy restaurants, just memorable experiences! Learn more about us or contact us to start planning your perfect China trip.