Pack for China Checklist Zuletzt aktualisiert am 2019-06-22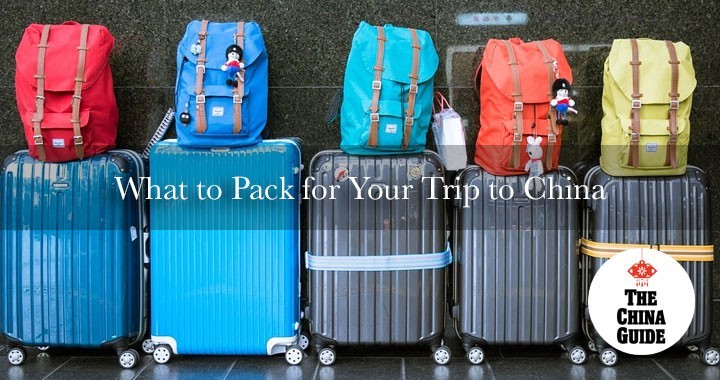 Travel documents
This should be the first item on your checklist. Remember that you need a Chinese visa, a valid passport, and any relevant permits needed to visit other regions of China.
What to pack
Exchange a small amount of Chinese yuan in your home country, bring some more money to exchange once in China, and bring at least one credit card if you have one.
Pack light, fast drying clothes.
Bring comfortable shoes! You will spend lots of time walking and if you're planning on hiking or trekking, you will need sturdy walking shoes.
Bring a sweater or a light jacket regardless of the season, as you may need it during flights or train rides.
If possible, bring a small suitcase or a big backpack as chances are you will need to drag the suitcase along or haul it up some stairs.
Bring a big zip lock bag for your laundry; you don't want to mix clean clothes with the used ones!
Don't pack anything you don't need. Don't bring your expensive jewelry with you. Crime in China is extremely rare but you risk the possibility of losing your jewels or accidentally forgetting them somewhere.
International baggage allowances vary and remember that you must also consider domestic limitations if you are flying between different Chinese cities. Normally this is one 20kg check-in bag plus a normal carry on. Enforcement varies, so if you are over you may or may not have to pay an excess baggage fee.
Finally, be sure to leave some space in your suitcase for souvenirs!
Our top packing and preparation tips
It is important to remember that while there are many public toilets in China, paper isn't always provided. Bringing an extra toilet paper roll, a few wet tissues, and some hand sanitizer for your trip won't hurt. If you're visiting rural areas, then you will absolutely need these items.
You will need an adapter plug or a power converter for all your electronic devices.
If you suffer from an illness or condition that requires medication, bring the necessary amount of medicine and a doctor's prescription if you have it. We also advise bringing a small medical kit with pills to relieve stomachaches, headaches or sleeping pills, and your doctor's contact information if you suffer from any preexisting conditions.
While you can find most toiletries in China, if you prefer a specific brand or don't want to waste time searching for your favorite products, bring an ample supply with you. Remember they should all be travel-size; otherwise you may not bring them in the plane.
Write down your emergency contact details and give them to your guide. Never forget to also let your close family and friend know where you will be and pass on your flight and hotel information.
Bringing your phone or laptop is fine but you should know that Internet in China is heavily censored and some sites won't be accessible. Read our page on internet and technology for more information.
Apps you may find useful for your trip to China
Any Chinese-English dictionary, such as Pleco or Hanping Lite.
WeChat (think of it as a super powered hybrid of Facebook and Whatsapp) will facilitate contacting your guide, our team or any friends you make along the way!
Map apps that offer an alternative to Google maps, such as maps.me, Apple maps or even Baidu maps (Chinese language only).
Air Visual lets you check the air quality in almost any Chinese city.