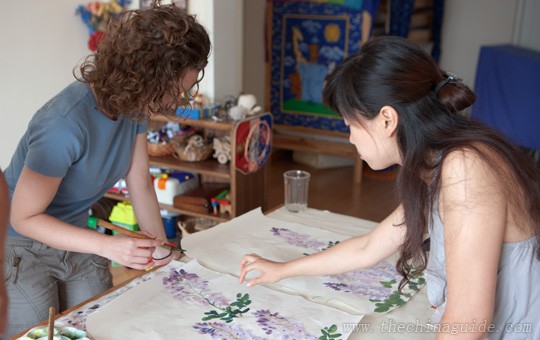 Painting in the traditional style is known in Chinese as guó huà (国画), meaning 'national' or 'native painting,' as opposed to Western styles of art that became popular in China in the 20th century. Traditional painting involves essentially the same techniques as calligraphy and is done with a brush dipped in black or colored ink; oils are not used. As with calligraphy, the most popular materials on which these paintings are done are paper and silk. The finished work is then mounted on a hanging scroll or handscroll.
If you are interested in Chinese painting or calligraphy, we can add this activity to your itinerary. By attending this class, you will get some basic knowledge about these art forms and try your hand at creating your own painting or calligraphy. This activity is also a good way to relax for a couple of hours in between seeing different sights in Beijing. At the end of the class, you can roll up your masterpiece and bring it home with you.
Please note that this class lasts about one to two hours and is just an introduction to the basics of Chinese painting or calligraphy. It is not meant for those who are looking for a more intense or in-depth class.
Popular Tours