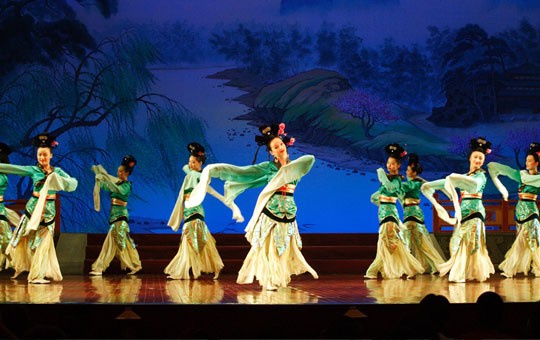 The Tang Dynasty Dinner Show combines a sumptuous dumpling banquet with a fabulous traditional dance and music performance that depicts the Tang dynasty (618-907 AD), the most prosperous and culturally prolific dynasty in Chinese history.
Highlights and Travel Tips
The delicious dumpling banquet is served before the show. The dumplings come in various shapes and flavors, all of them handmade and filled with different combinations of meat and vegetables. Dinner also includes soup, dessert, cold dishes, and beverages (local beer, water, or soda).
The show consists of several separate performances that combine music, dancing, singing, and stunning costumes to tell a few cultural and historic stories from the Tang dynasty. There is a screen that displays a summary of each story beforehand, which will help provide some context for the show.
The Tang Dynasty Dinner Show is mainly designed for tourists, so it is not a truly authentic performance, but it does give you a chance to relax and enjoy some traditional Chinese food and entertainment, as well as learn a little history about the Tang dynasty after a busy day of sightseeing. You can also skip the dumpling dinner, if you prefer to just see the evening performance.
Showtimes and Ticket Prices
Showtime: 6:50-8:10pm (dinner); 8:30-9:40pm (show)
Ticket prices: 268 CNY (show only), 448 CNY (dinner and show). Book online or with an agent for discounted prices.
Popular Tours