Exploring the Mysterious Tulou of Fujian Province
Zuletzt aktualisiert am 2018-08-09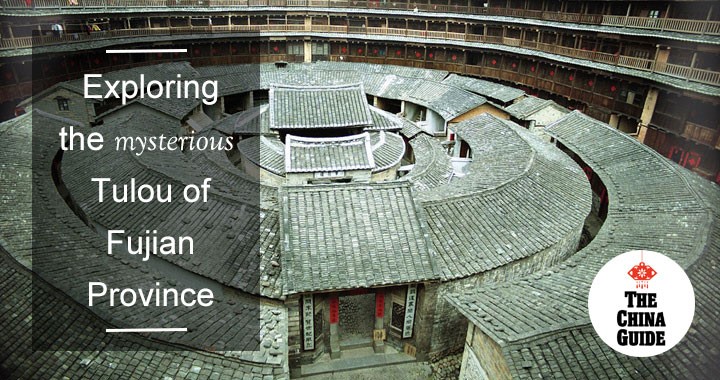 If you have ever lived in an apartment building of any sort, you will be more than acquainted with the joys and sorrows of living in very close proximity to your neighbors.
The inhabitants of the tulou (土楼) in China's Fujian Province – literally translated as 'earth building' – are no doubt familiar with this sensation. Constructed between the 12th and 20th centuries, these rectangular or circular architectural wonders can house up to 800 people within the confines of their thick walls. These fortified castle-like dwellings, somewhat reminiscent of an open-top sports stadium when viewed from above, are usually three to five stories high. In a very Goldilocks-esque fashion, the more modern tulou designs are said to be 'just right'; they are well-ventilated, windproof and earthquake-resistant, and also receive plenty of light. These characteristics are one of the reasons that a number of the tulou have been listed as World Heritage Sites by UNESCO since 2008.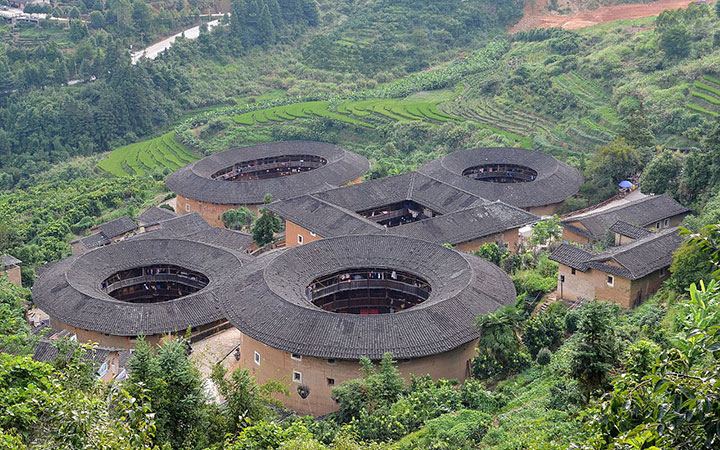 Despite what you might imagine when living at such close quarters with the people next door, tulou are known for being peaceful and harmonious places to live. Tulou were built on a strong foundation of equality; every family owned an identical vertical section of the building. Each room had equal dimensions and was made of the same materials, thus fostering a class-free, egalitarian community based on mutual respect.
The tulou is native to the Hakka people of China, once a migratory group who came to settle in the mountains of southwestern Fujian. In Chinese, the Hakka people are known as 客家人, or 'guest people', which reflects the original attitudes of native Fujian people towards them. Hakka people were considered a group of invasive intruders, and as such, they were no strangers to confrontation and conflict. For that reason, many of the Fujian tulou were constructed complete with slits in their walls to mount rifles, no windows on the ground floor, and one large door for maximum protection.
Historically, the Hakka have been a very religious people, placing emphasis on the worship of ancestors as one of their principal expressions of spirituality. Traditionally, they believed that the ghosts or spirits of their ancestors were able to influence their lives and thus it was necessary to worship and offer sacrifices to them. Because of this, it is not uncommon to find ancestral halls in the center of a tulou. These shrines also served as mutual ground for community events and meetings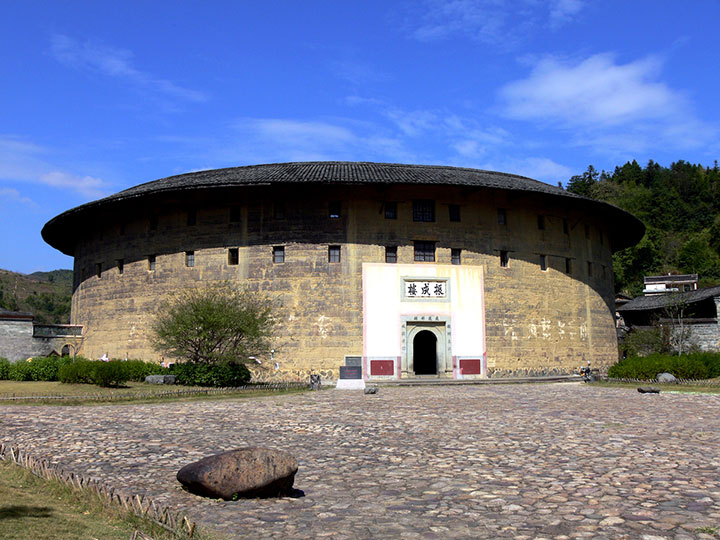 While many of the tulou remain untouched relics of the past, these curious constructions have also had their share of speculative intrigue and have spent some time in the global spotlight. Whether a factual historical event or just a mere modern legend, it is commonly thought that some time in the 1980s, a US military satellite sighted the strangely-shaped tulou. The tale continues that US military intelligence suspected them to be nuclear silos and so sent CIA personnel to China to investigate, only to discover that they were in fact just traditional settlements.
While it is true that the tulou long escaped the touch of international tourism, as China began to open its doors to the world, so the world began to enter the doors of the tulou. This has led to the transformation of the tulou into one of the main and most-visited tourist attractions in Fujian Province, with tourists flocking in their thousands to catch a glimpse of these rare architectural oddities and experience life within their walls. However, in the face of all this, many of the tulou do remain inhabited by local people and their communities continue to thrive. However, as increasing numbers of the younger generation choose modern life in the city over the traditions of their ancestors, the fate of the tulou remains uncertain. ■
---
All images from Wikimedia