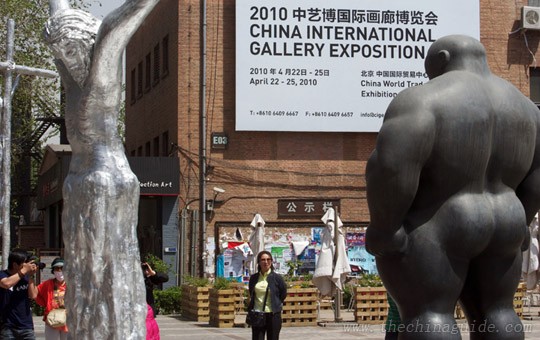 Located fairly far from central Beijing, the 798 Art Zone is a trendy area for local artists and contains numerous galleries, art-related shops, restaurants, and cafes, making it a nice area for a pleasant afternoon stroll, especially for those visitors with an interest in art.
Highlights and Travel Tips
The 798 Art Zone gets its name from the Soviet-style factories that used to operate there. The abandoned factory district originally brought local Chinese artists to the area looking for inexpensive workshop space and it has become an ideal creative setting. The area has large open spaces and rooms perfect for art displays accented by the Communist-era industrial architecture. Artists and gallery owners work in redesigned factory buildings, which provide an industrial backdrop that enhances the atmosphere of the area.
Travelers looking to see the modern culture of Beijing should spend an afternoon browsing through the 798 Art District warehouses and alleyways. You can view exhibitions in diverse genres, ranging from traditional Chinese art to contemporary art. Whether you want to purchase some local art or just look and enjoy a coffee along the way, the 798 Art Zone is a window into modern China and how it is embracing, and putting its own spin on, contemporary art forms. While there are some exhibitions that you must pay to enter, most of them are free.
The 798 Art District covers a large area, so be sure to wear comfortable shoes. There are plenty of restaurants and cafes that you can relax or eat in between exhibitions.
Since gaining fame as an art district, the 798 Art Zone has become a booming commercial area, making it a good place for shopping as well. The 798 area is busiest on weekends, when many locals come to hang out.
Opening Hours & Ticket Prices
Opening hours: all day long, best visited in the afternoon. Most galleries are closed on Mondays.
Entrance fee: free, some galleries charge a small fee to enter
Average time for this activity: 2 to 4 hours

How to Get There
The 798 Art Zone is some distance from central Beijing. The closest subway station is more than 1 km away, so it's usually easiest to take a taxi.
Popular Tours