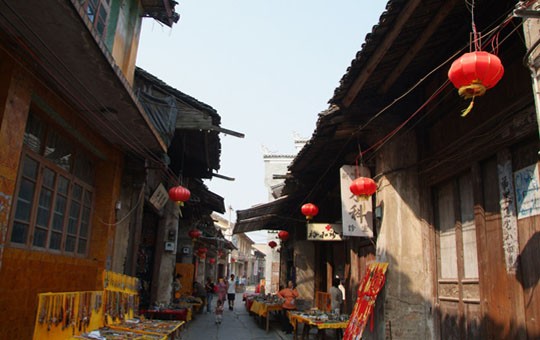 Nestled on the bank of the Li River near Guilin, Daxu Old Town was once a busy trade and harbor town in its heyday. Today, although being called a "town", Daxu is quite small and mainly consists of a single cobblestone street lined with shops.
Highlights and Travel Tips
While some houses are old, you can also find some houses recently built with concrete and bricks that look a bit out of place. Longevity Bridge, a scenic old bridge in the town, is another site worth seeing if you visit the town.
Although Daxu Old Town is a popular tourist site, it is not as interesting or as picturesque as many other ancient towns you can find elsewhere in China. If there is already another old town on your China itinerary, or if you have limited time in Guilin, it may not be worth the drive to visit Daxu Old Town.
Opening Hours and Ticket Prices
Opening hours: all day
Entrance fee: free
Average time for this activity : 2 hrs
How to Get There
Located about 16 kilometers southeast of downtown Guilin, Daxu Ancient Town can be easily visited by a 30-minute taxi ride from downtown Guilin, which costs about 60 CNY. Public buses are also available, although the route includes some transfers.
Popular Guilin & Yangshuo Tours