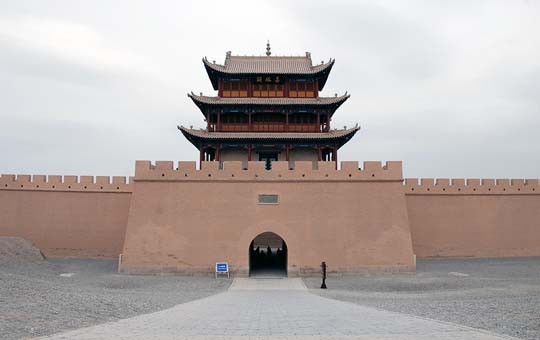 This incredible structure was once the last stronghold of dynastic power on China's western frontier. It once held a military barracks, government office, and small village. Although destroyed and rebuilt many times, the original gates, general's residence, and fort temple remain. A walk along the inner fort's walls affords views of the surrounding snow-capped Qilian mountain range.
Performances take place throughout the day showcasing the military styles of the late Ming dynasty including horseback riding and archer. There are also opera and shadow puppet performances that take place on the stage at the central fort entrance. Guides can find out the schedule of performances at the front gate ticket booth.
The fort site is huge and should not be rushed through. It is best to spend time here as there are so many nooks and crannies worth exploring within the fort. Make sure to fit in the fantastic Great Wall Museum of Jiayuguan near the exit (admission included in the general admission ticket).
Average time for this activity : 2 hrs
Popular Gansu Tours: