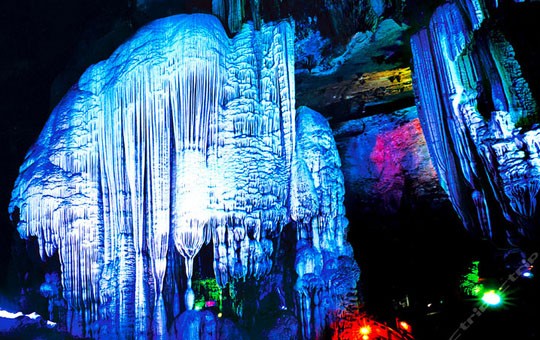 Located about 18 km to the southeast of downtown Yangshuo, Silver Cave is the largest karst cave in the Guilin area and features numerous intricate rock formations.
Highlights and Travel Tips
Silver Cave is a spectacular network of underground caves, and has a total length of nearly 2 km. There are various crystal formations inside the cave, including some magnificent silver stalactites cascading like waterfalls from the ceiling of the cave. The colored spotlights shining on these crystal formations make them even more stunning.
There are steps and narrow passages inside the cave, so be careful as you explore. The cave is warm and humid inside, so be sure to bring some water to keep you hydrated.
At the exit, there are many shops which you will need to walk by before exiting. There are also some souvenir shops and photo booths inside the cave that lend a touristy atmosphere to the site.
The Silver Cave is a popular tourist attraction, so be prepared for crowds depending on the time of your visit.
Opening Hours and Ticket Prices
Opening hours: 8:00am-5:30pm
Entrance fee: 80 CNY
Average time for this activity: 2 hours
How to Get There
Silver Cave is a 40-minutes drive from central Yangshuo. The most convenient way to get there is by hiring a private car and drive or joining an organized tour.
Popular Guilin & Yangshuo Tours