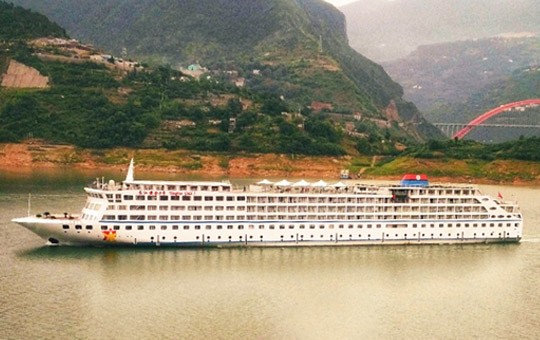 Yangtze River Cruises are a gentle and relaxing way to see the sites and sights along Asia's longest river. Leaving from Chongqing or Shanghai, guests can choose where they would like to disembark in between these two cities. There are also many options to cover different budgets depending on company and liner.
Highlights and Travel Tips
Depending on the length of the cruise, sites include the wooden, no-nails, 12-story Shibao Pagoda and the Shennong Stream, a tributary and ancestral home of the Tujia ethnicity, who suspend their deceased in hanging coffins over the cliff edge. Fengdu Ghost City is an atmospheric stop, with its ancient temple dedicated to the afterlife. It is best to visit at night, when the intimidating Buddhist statues and displays of figurines representing the trials and horrors of hell tower over tourists.
Further down the river from these sites is the colossal Three Gorges Dam and beyond that the historically important cities of Wuhan and Nanjing. It is also possible to disembark and take a tour of Huangshan.
And it is not just the sights that are impressive. The liners that cruise the Yangtze river are comfortable and offer a great vantage point for viewing the Three Gorges Valley, the Yellow Crane Tower and impressive bridges of Wuhan. The food on board is both delicious and plentiful, the entertainment is top-notch (for example, a traditional Sichuan face-changing show) and the beds provide a soft, hugging coziness.
Our guides will allow time to top up on snacks and bottled water before boarding. The ships only provide one bottle of water a day for guests, so bringing drinks onboard provides more flexibility. You may also buy drinks onboard but at a higher cost.
Virtual Tour of Yangtze River Cruise
Popular Chongqing Tours: