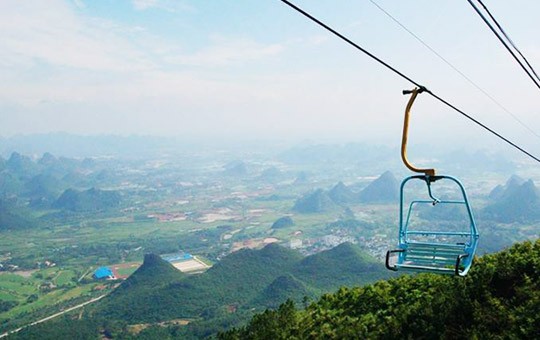 At over 900 meters in height, Yaoshan Mountain is Guilin's highest peak and stands just 12 km away from downtown. The hill offers commanding views of the city itself, as well as the surrounding karst peaks.
Highlights and Travel Tips
There is a chairlift that will transport you from the foot of the hill to the top. The chairlift ride takes you on a winding route through the forest, making for a charming and scenic ride. However, please note that there might be long lines for the chairlift at certain times.
Once you reach the top of the hill, there is a platform that affords stunning views of the surrounding countryside and uniquely shaped karst hills. Take your time to enjoy the scenery because there is no much else to do on the summit. Watch out for the people who approach you and offer you things, as tourist traps can be common here.
Once you're ready to make your descent, you can return via the chairlift or take a thrilling ride on a toboggan slide. Yaoshan Mountain boasts the second longest toboggan run in China, providing a fun and fast alternative to the more leisurely pace of the chairlift.
Before you leave, you will have to walk through a commercial area with many shops and vendors hounding you to purchase their goods. If you want to buy something here, be sure to double check the quality of the item and bargain for a reasonable price.
Opening Hours and Ticket Prices
Opening hours: 8:30am - 6:00pm
Entrance fee: free
Chairlift fee: 40 CNY (one-way) / 75 CNY (round-trip)
Toboggan slide: 35 CNY
Average time for this activity: 1/2 day
How to Get There
You can take Bus 10, 16 and 24 from the city center and then get off at Jingjiangwangling Stop. From there, you will walk about 10 minutes to the entrance of Yaoshan Mountain. If you prefer, you can always take a taxi, which costs about 40 CNY from the center of Guilin.
Popular Guilin & Yangshuo Tours