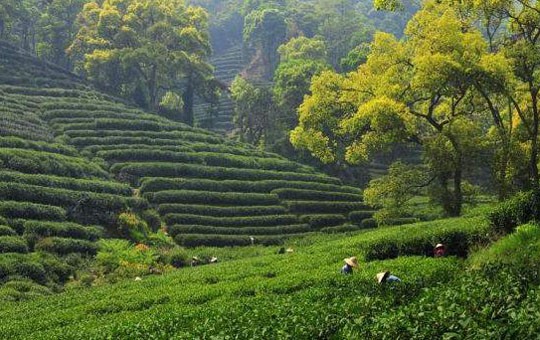 Meijiawu is located in the hills just west of Hangzhou. Particularly famous for its Longjing tea, this village is home to 160 farming units, which still produce tea all year long. In the village and surrounding tea fields, visitors can learn more about the production of Longjing tea and the elaborate steps of a traditional Chinese tea ceremony.
In Meijiawu village, you'll also have the opportunity to try Hangzhou's famous tea cuisine, including dishes like shrimp in Longjing tea and carp in Qingshui tea. We recommend stopping here for lunch in one of the outdoor restaurants and walking among the hilly tea fields to enjoy the peaceful scenery. It's a great respite from the city.
You can also experience picking some of Hangzhou's famous Longjing tea at a local family's home. The family provides baskets and instruction on the traditional way to collect tea. They will also show visitors how the tea is processed and sold.
Average time for this activity: 1-2 hrs
Popular Hangzhou Tours: