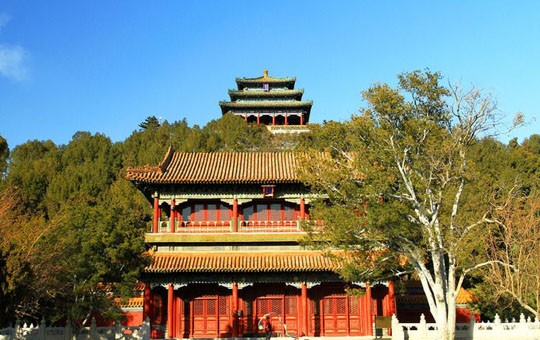 Jingshan (literally "Prospect Hill," also known as Coal Hill) Park is located across the street from the exit of the Forbidden City. The park was a part of the Forbidden City until the early 1900s when the walls were pulled down and a road cut through it, destroying several gates and buildings between the park and the rear entrance of the palace.
Highlights and Travel Tips
Just north of the Imperial Palace, the site occupied by Prospect Hill was a private park reserved for the use of the emperor in the Yuan dynasty (1279-1368). During the Ming dynasty (1368-1644), an artificial hill with five peaks was made, utilizing earth excavated when the moat of the Imperial Palace was dug. A pavilion was erected on each peak, and five bronze Buddhas given pride of place in them; four of these statues were removed by the troops of the Allied Expeditionary Force when they came to Beijing to relieve the Siege of the Legations in 1900. Prospect Hill was opened to the public in 1928.
The artificial hill in Jingshan Park used to be the highest point in the city. The park is nice to walk around, but what really makes it worthwhile is that the temple at the top of the hill, the Pavilion of Everlasting Spring (Wanchunting), affords stunning, panoramic views over Beijing and the Forbidden City.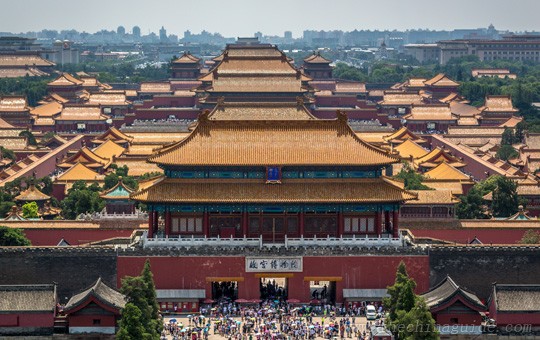 It takes about 10 minutes to walk up to the pavilion. The climb is relatively easy with plenty of shade and handrails, but there are many steps involved. However, it is well worth the climb on a clear day to get photos of the scenic view.
The temple at the top of the hill can be quite crowded, particularly at sunset on a clear day when many photographers try to catch the last rays of light falling on the rooftops of the Forbidden City.
After taking in the view, if you have more time, you can walk back down and toward the middle of the park, where you will usually come across groups of elderly Chinese people dancing, singing opera, or doing tai chi.
Accessibility Information
Visitors in wheelchairs can easily enter the park to explore and relax. There are also wheelchair accessible restrooms within the park. However, wheelchair users cannot go to the top of the hill to enjoy the panoramic views of the Forbidden City, as the path requires climbing numerous stairs.
Opening Hours & Ticket Prices
Opening hours: 06:00 - 21:00 (April to October), 06:30 - 20:00 (November to March)
Entrance fee: CNY 2
Average time for this activity: 0.5 hour
Popular Tours