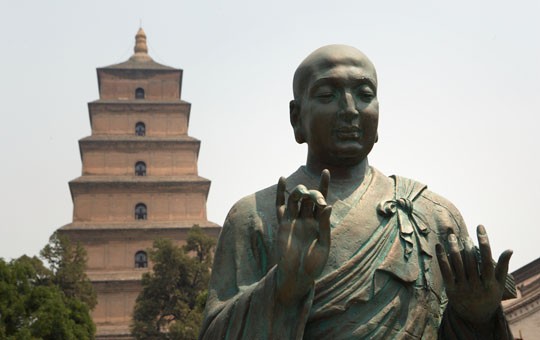 The Big Wild Goose Pagoda, also called Great Wild Goose Pagoda, is one of the most famous Buddhist structures in China due to its religious and historical relevance. First built over a millennium ago, it is one of Xi'an's most ancient and iconic landmarks and was added to UNESCO's World Heritage list as a part of the ancient Silk Road. The pagoda is remarkably well preserved given its age, other than a slight lean to one side.
Highlights and Travel Tips
Originally built in 652 CE as a five-story brick structure, about 53 meters high, the pagoda is said to be where the Tang dynasty monk Xuan Zang translated the Buddhist scriptures he brought back from his journey to India, which is described in the 16th-century novel Journey to the West. The first structure collapsed and was rebuilt to even greater grandeur by Empress Wu Zetian in the year 704 CE, with subsequent renovations during the Ming Dynasty. It now reaches up seven stories to an imposing 64 meters.
While you can go inside the pagoda to gain a bird's eye view of the surrounding area for an additional fee, most visitors prefer to take pictures with the pagoda as a backdrop and appreciate it from outside. Be aware that climbing to the top involves many steep, narrow stairs.
The pagoda is surrounded by a complex of temple buildings, which are all part of Da Ci'en Temple, considered the most sacred Buddhist site in the city. It is an active Buddhist temple with residences for those who live and work there. It is nice to walk around the temple and look into all the rooms, where you can see beautiful Buddhist artwork and people worshiping. There is a large gift shop that sells souvenirs and has calligraphy demonstrations.
Surrounding the pagoda, there is a beautiful park and a square where you can stroll before or after your visit. The square is scattered with various sculptures with interesting, historical stories. From June to October, an entertaining water show is held at the square fountain set against the backdrop of the Big Wild Goose Pagoda, and it is worth sticking around for after visiting the pagoda. The show is especially nice at night when the square and pagoda are lit up. Showtimes differ on weekdays and weekends, so be sure to ask your guide if you want to see the show. The Tang Dynasty shopping street near the pagoda is another nice place to explore.
Opening Hours and Ticket Prices
Opening hours: 8:00am-5:00pm
Entrance fee: 50 CNY for entry to Da Ci'en Temple and exterior of the pagoda; ascending the pagoda is an extra 30 CNY
Average time for this activity: 1 hour
How to Get There
The pagoda is located outside the city walls, but is still within downtown Xi'an. It can be easily reached by subway line 3 and various buses, as well as taxi.
Popular Tours