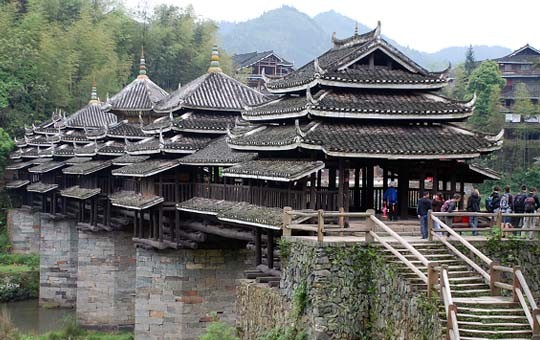 Located about 90 km to the northwest of Guilin, Sanjiang County is known as the homeland of the Dong minority people. The eight villages of Chengyang district, a cluster of Dong minority villages located 19 km north of Sanjiang County, are a good place to experience the Dong people's unique culture and architecture, including the beautiful and historic Chengyang Wind and Rain Bridge.
Highlights and Travel Tips
The Dong people are renowned carpenters and their spectacular covered bridges, drum towers, and two-story homes can be seen dotting the hills around Sanjiang. For centuries, the Dong minority group has specialized in constructing what they call wind and rain bridges, bridges made up of roofed pavilions to provide shelter from the elements. While there are many spectacular Dong wind and rain bridges throughout northern Guangxi and western Guizhou province, Chengyang Bridge is by far the most iconic and is considered one of China's most exceptional architectural structures.
This 64-meter-long Chengyang Wind and Rain Bridge was built in 1912 with stone and wood, without the use of a single nail. Consisting of five tower-like pillars with an intricate design of tiered roofs that span across the Linxi River, the bridge is the architectural symbol of the Dong people. Nowadays, the local villagers use this majestic bridge as a covered market to sell their crafts.
Nearby the Chengyang Bridge, the eight Dong villages and the beautiful countryside around them also deserve a visit. Each Dong village has an impressive drum tower and an opera stage. The drum tower is a public space within Dong villages and represents the social center of the village. You will also see hundreds of wooden houses, patches of rice terraces, and small rivers with water wheels, a typical portrait of Dong minority life. Please be aware that the walking paths can be a little worn and bumpy in places.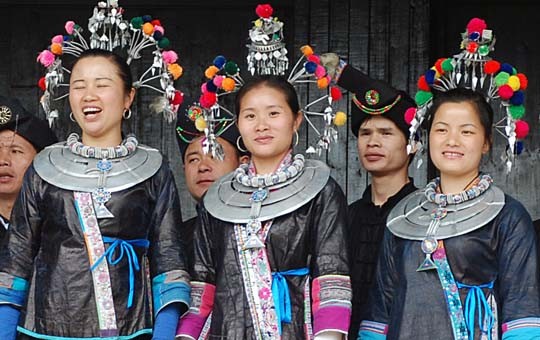 The Dong villages also hold traditional performances in the morning and early afternoon that are meant mainly for tourists. These shows feature performances by local singers and dancers, including the Dong people's traditional polyphonic song, which has been included on UNESCO's intangible cultural heritage list.
Three hours is usually enough for a visit of the Chengyang Bridge and a couple of the nearby Dong minority villages. Thanks to the high-speed train, a day-trip from Guilin is sufficient to enjoy the area. Staying a night, however, will allow you to explore more of the area and enjoy the peaceful atmosphere of the village in the morning and evening without crowds of tourists. If you choose to stay overnight, you can find several guest houses with balconies overlooking the river and bridge. Be aware that amenities in the villages are basic.
Opening Hours and Ticket Prices
Opening hours: all day
Entrance fee: 60 CNY (including Chengyang Bridge and the nearby Dong villages)
Average time for this activity: 3 hours
How to Get There
The bullet train is the quickest and most comfortable way to travel from Guilin to Sanjiang County, taking just 40 minutes. Once you arrive at Sanjiang South Railway Station, you can take a taxi or bus heading to Linxi, and then get off at Chengyang Wind & Rain Bridge Scenic Area. If you drive from Guilin, it takes around 2.5 hours to get to the scenic area, mostly on highway.
Explore Further
Being close to the Longji Rice Terraces, Chengyang Bridge and its surrounding Dong villages and the Longji Rice Terraces can be combined into a two- or three-day excursion from Guilin.

Popular Guilin & Yangshuo Tours