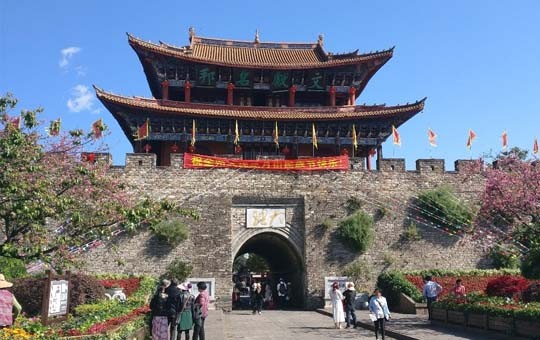 Dali Old Town, once the ancient capital of Nanzhao Kingdom and Dali Kingdom, now is well-known as a tourist attraction for its picturesque location, historic Bai architecture, and vibrant life at night. Outside the old town, the scenic Erhai Lake and the symbolic Chongsheng Three Pagodas also deserve a visit when you travel to Dali.
The South Gate of the old town, also called Double Crane Tower or Cheng'en Tower, has a history over 600 years and is the oldest building of Dali Old Town and become the symbol of the ancient town. Connected with the Gate is a length of city wall which offers a good place to stroll and appreciate the old town and the Cangshan Mountain in the distance.
At the center of Dali Old Town, Wuhua Tower is a symbolic architecture and offers a good place to climb up for a great panoramic view of Dali Old Town, and allows you to appreciate Cangshan Mountain, Erhai Lake and Chongsheng Three Pagodas in the distance.
On the bank of Erhai Lake, there are several traditional Bai villages where you can visit and get a glimpse of the culture and life of Bai people.
Popular Yunnan Tours: