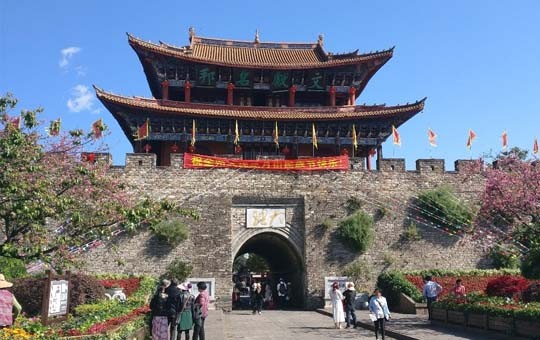 Dali Old Town, or Dali Ancient City, once capital of the kingdoms of Nanzhao and Dali, is now a tourist attraction well-known for its historic Bai architecture, picturesque location, and vibrant nightlife.
Highlights and Travel Tips
The South Gate of the old town, also called Double Crane Tower or Cheng'en Tower, has a history of over 600 years and is the oldest building of Dali Old Town and a symbol of the ancient city. Connected with the Gate is a portion of the city wall which makes for a good place to stroll. At the center of Dali Old Town, Wuhua Tower is of architectural significance and a good place to climb up for a great panoramic view of Dali Old Town and Cangshan Mountain, Erhai Lake and Chongsheng Three Pagodas in the distance.
As with many Chinese old towns, the historic center of Dali has been commercialized. Fuxing Street is the most touristy street with basically every building occupied by either a hotel, restaurant or shops selling similar things. Westerner's Street (Huguo Road or Yangren Jie in Chinese) is lined with mostly bars, cafes, and restaurants. It's not a place to do serious shopping, it's more of a place for a stroll while browsing different shops, people-seeing, and trying some local food. At night, these streets become extremely crowded and noisy.
The most authentic part of Dali Old Town is its northern half. There are just a few guesthouses, bars, and tourist shops in that part of the town. Instead, you'll find local shops, farmers' markets, and residents going about their daily life. We highly recommend exploring this area for a taste of the real Dali.
Outside the old town, the scenic Erhai Lake and the symbolic Chongsheng Three Pagodas also deserve a visit while in Dali. On the bank of Erhai Lake, there are several traditional Bai villages you can visit to get a glimpse of the culture and life of Bai people. Visitors can rent a bike or a motor scooter to ride out to the lake.
Opening Hours & Ticket Prices
Opening hours: all day
Entrance fee: free
Average time for this activity: half day
Popular Yunnan Tours