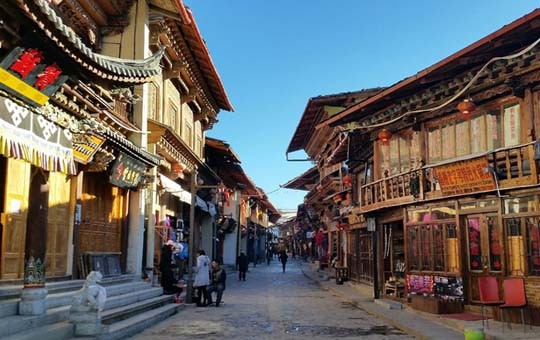 Those looking to learn more about Shangri-La's rich and unique history should head to Dukezong Ancient Town. Dukezong is one of the oldest parts of the region and was first constructed in the 7th century as a stopping point on the Tea Horse Road.
Highlights and Travel Tips
This 1,300-year-old town features traditional Tibetan homes, ancient temples and pagodas, and narrow, winding alleyways, all adorned with iconic Tibetan prayer flags of various colors. In all, Dukezong Ancient Town provides visitors with an authentic view of Tibetan culture and is a welcome reprieve from the busy goings-on of the big city.
Simply walking around Dukezong's winding, maze-like lanes is a great way to enjoy the enchanting historical charm of the town. This will allow you to observe the traditional dwellings and other interesting architecture up close. You will also find a number of shops and outdoor markets selling jewelry, thangka paintings, incense, and more, where you can find some beautiful souvenirs.
Dukezong is also home to a number of teahouses and authentic restaurants, as well as a few more cosmopolitan bars that come alive at night. The Hazelnut Bar is a popular venue where you can watch and listen to Tibetan dance and music performances.
Near Dukezong Ancient Town, you can also visit Guishan Park, which is home to an impressive Tibetan Buddhist temple and offers great views over the town. The temple features a gilded prayer wheel covered with depictions of Buddhist deities and symbols that is so big it takes at least 6 people to spin!
Dukezong Ancient Town is situated in the southern part of Shangri-La city and is just a short drive or walk from downtown.
Popular Yunnan Tours: