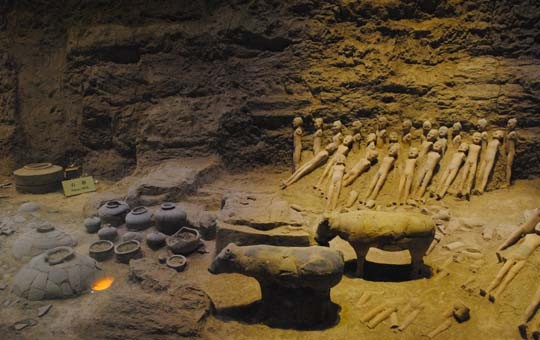 The Han Yang Ling Mausoleum, now the Han Yang Ling Museum, located about 20 km north of central Xi'an, was the final resting place of Emperor Jing (188 BC-141 BC), the fourth emperor of the Western Han Dynasty, and his wife, Empress Wang.
The museum covers an area of 20 square kilometers and consists of the emperor and empress' tombs, the south and north burial pits, a ceremonial site, a human sacrifice graveyard, and a criminals' cemetery. Today, some of the burial pits have been excavated and modern museum halls have been built to house and showcase the pits and the artifacts excavated from the pits.
Highlights and Travel Tips
The Han Yang Ling Museum covers a large area with several sites open to tourists. The main place of interest to tourists is the Protection Hall, which covers the excavated burial pits and is the first underground museum in China.
Inside this underground hall, the pits and the artifacts are separated from visitors by glass walls and, in some areas, glass walkways in order to protect the excavation site. This layout grants visitors unparalleled views of the site, since you are actually walking directly over or alongside the pits.
Unearthed burial objects on display at the museum include naked human statues (which once had clothes and wooden arms that have decayed over time), animals, everyday articles, chariots, and weapons. The figures are much smaller, about 1/3 the size, than the life-size figures of the Terracotta Warriors, but they reveal more about ancient daily life than the militaristic figures of the Terracotta Warriors.
Unlike the more famous Terracotta Army, Han Yang Ling does not have crowds at all, so you can explore in relative peace and quiet. The lighting is dimmed to protect the artifacts and flash is not allowed when taking photos. Most displays have both English and Chinese descriptions.
Near the exit of the underground museum, there is a movie theater that runs a short documentary on the history of the mausoleum, which costs 10 CNY a person. The documentary is in Chinese, but headphones playing English, French, and German translations are available.
Opening Hours and Ticket Prices
Opening hours: 8:30am-6:30pm (March-November) / 8:30am-6:00pm (November-February)
Entrance fee: 70 CNY (March-November) / 55 CNY (November-February)
Average time for this activity: 2 hrs
How to Get There
As the Han Yang Ling Museum is along the road to the airport, it is very convenient to stop for a visit while transiting to/from the airport, if you are flying. Visitors can also take tourist bus line 4 from Shitushuguan (City Library) at set times. The bus fee is 2 CNY one way.
Popular Tours