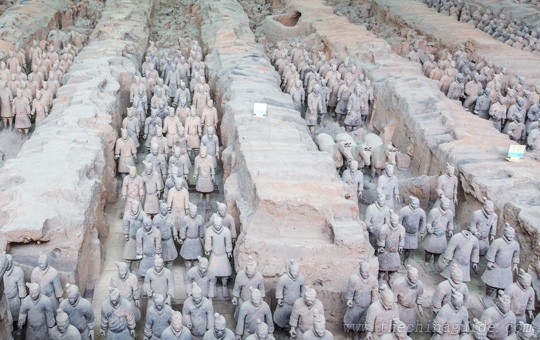 About a one-hour drive outside the ancient capital of Xi'an lies one of China's most impressive claims to fame, the Terracotta Army, also known as the Terracotta Warriors and Horses. This underground, life-size terracotta army was constructed by China's first emperor, Qin Shi Huang, in the 3rd century BCE to serve as his guardians during the afterlife.
The buried army remained undisturbed underground until its accidental discovery in 1974 by a local farmer. Since then, it has become known as one of the most important archaeological finds of the 20th century and has been designated as a UNESCO World Heritage Site. The Terracotta Army, officially named Emperor Qin Shi Huang's Mausoleum Site Museum, is no doubt a must-see for all visitors to Xi'an.
Highlights and Travel Tips
The Qin Emperor's terracotta figures, remarkably well-preserved despite being over 2,000 years old, testify to the power of the man for whom they were molded to protect. This site is a stunning archaeological find of monumental scale, an amazing display that every visitor to China should see. Although the tomb complex itself where the emperor is believed to be interred is largely unexcavated, the thousands of surrounding warriors, horses, and chariots alone are a wonder to behold.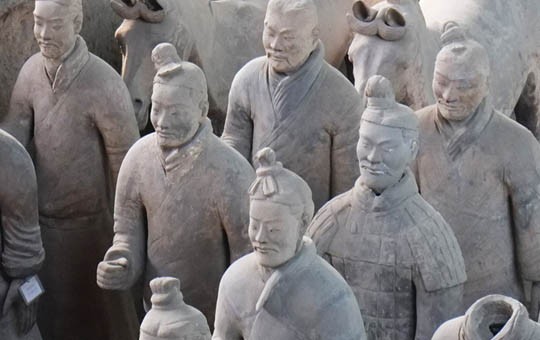 The Museum of Qin Terracotta Warriors and Horses consists of three main pits that are very close to each other. Pit 1 is the largest and composed of several corridors crowded with thousands of imposing, life-sized statues, each with their own individual faces, hairstyles, and uniforms. Northeast of Pit 1 lies Pit 2, which is smaller but contains a variety of figures, including infantry, crossbow team, cavalry, and chariots, that once guarded the emperor's tomb. Northwest of Pit 1 lies Pit 3, which contains the intricately designed statues of higher-ranking officers and a chariot led by four horses.
After passing through the main entrance (remember to keep your ticket, since you will be asked to show them when you entering the pits later), there is a 15-minute walk to the main pits. While there are golf carts to take you there for a small added cost, we suggest you walk since the path winds through a beautiful and shady green park and there are no stairs involved.
Once you arrive at the main pits, we suggest visitors follow this sequence of visiting: Pit 2 - Pit 3 - Pit 1, so that you can save the most massive pit for last. The Terracotta Army Museum is one of the most popular attractions in China, so be prepared for long lines and crowds when visiting, although the lines move quickly. We suggest you go early to avoid the crowds. (Read more tips for avoiding the crowds when traveling in China here.)
Excavation is still undergoing, so while you are visiting, you may see some half-restored figures and ruins with broken parts, as well as workers in the process of restoring statues. A zoom lens is a must if you want to take close-up photos of the warriors in the pits, since you will be kept at some distance from the pits.
All signs have English descriptions, providing some basic information about what you are seeing, but it is advisable to hire a professional guide since the place is large and full of history beyond the basic descriptions provided.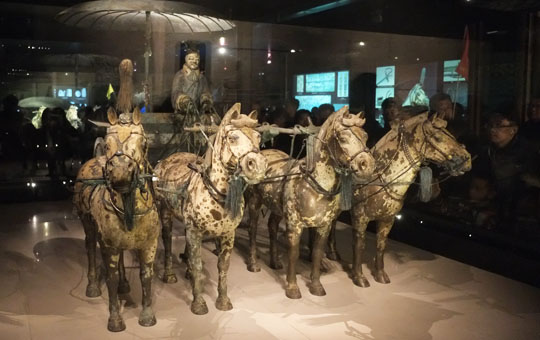 After finishing you visit, there is no tram service back to the parking lot. You have to walk about a kilometer through a commercial area with many restaurants and souvenir shops and stalls. Be careful when buying expensive or valuable things, since some shops could be commission-based.
Accessibility Information
The path from the entrance to the main pits is flat with optional golf cart rides available. Ramps can be found at most places where there are steps. Restrooms are also accessible to wheelchair users. There might be some steps inside the museums but they are manageable with a little help.
Opening Hours and Ticket Prices
Opening hours: 8:30am - 5:00pm (March 16 to November 15) / 8:30am - 4:30pm (November 16 to March 15)
Entrance fee: 120 CNY
Average time for this activity: 2 hrs

How to Get There
The site of the Terracotta Army Museum is approximately 40 km from Xi'an city center but can easily be reached by bus or car. There is an affordable tourist bus that leaves from Xi'an Railway Station at regular times throughout the day; the bus costs 7 CNY and takes about an hour to reach the museum site. You can also take a taxi from Xi'an for about 150-200 CNY. If you have a tight schedule, then a private car or an organized tour is recommended.
How to Reserve a Ticket Online
The official ticket booking site for the Terracotta Army Museum is: http://order.bmy.com.cn:88/ticket/index.htm. Please note that the online booking system only accepts Chinese ID cards. Passport holders must buy tickets upon arrival at the site of the Terracotta Army Museum.
Explore Further
Around 1.5 km to the west of Terracotta Army Museum lies the Qin Shi Huang's Mausoleum Site Park (Lishan Garden) where the actual tomb of Qin Shi Huang is located. While most visitors skip this park, it is included in your Terracotta Army ticket and can be reached by the free shuttle bus from the Terracotta Army Museum.
This park consists of several smaller pits (filled with civil official figures, bronze birds, stone armor, acrobatic figures, etc.) and the Exhibition Hall of Historical Relics of Emperor Qin Shi Huang's Mausoleum, which showcases some relics excavated from the nearby pits. Be aware that some of the pits are not open to the public. These pits together with the exhibition hall normally take another two hours to visit.
Nearby the Terracotta Army Museum, there are some shops that make and sell replicas of the terracotta warriors as well as other souvenirs. Some shops allow people to mold their own idol-sized clay warriors, which can be an interesting activity for children.
Popular Tours