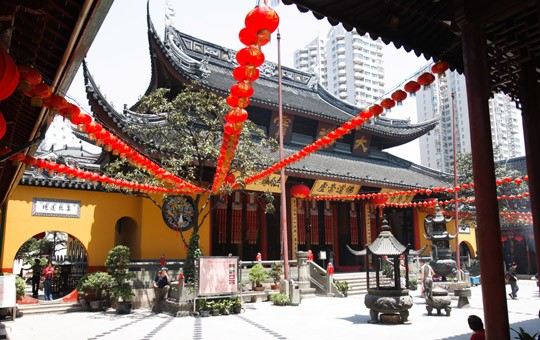 Located west of central Shanghai, Jade Buddha Temple is one of the city's few active monasteries and is famously home to two impressive jade Buddha statues from Burma.
The temple was originally built in 1882 but was destroyed during the 1911 revolution. Fortunately, the two precious Buddha statues were saved and a new temple, the one visitors can see today, was constructed in 1928 to house them.
Highlights and Travel Tips
The temple's hallmark jade Buddha statues, both carved in intricate detail, are stunning pieces of art. The Sitting Buddha statue, which depicts the Buddha in meditation, stands at 1.9 meters (or 6.2 feet) and features exquisite agate and emerald details. The Reclining Buddha, composed of white jade, is slightly smaller at about 1 meter in length and represents Buddha's death.
The temple is also home to a much larger Reclining Buddha made of marble that was brought from Singapore in 1989. These statues, combined with the many Buddhist paintings and sculptures scattered throughout the temple, make for an awe-inspiring display.
Because this is an active temple, you may also see local Chinese Buddhists burning incense and praying, adding to the serene atmosphere.
The temple also houses a restaurant that is open to the public on the second floor, which offers an array of reasonably priced noodle bowls, as well as other local dishes.
Opening Hours & Ticket Prices
Entrance fee: 20 RMB plus an extra 10 RMB to see the jade Buddha statues
Opening hours: 8:00am until 4:30pm with last admission at 3:30pm
Recommended duration of visit: 1 hr
Popular Tours