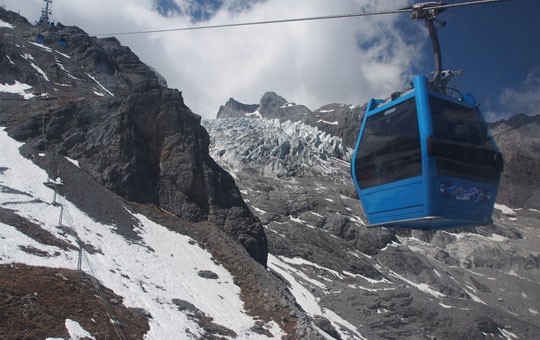 Located in a national park 9 miles (15 km) outside Lijiang, the Jade Dragon Snow Mountain is a symbol of the town and can be seen on clear days.
Travel Tips
A trip up the mountain is best done in the Swiss made cable car in 12 minutes. You arrive at 4506 meters, where is is substantially colder, so be sure to bring warm clothes and a hat. You can climb higher once you are there, or relax inside the lodges, escaping the wind and enjoy a coffee.
Oxygen cans are sold to tourists but for most people in normal health this is not necessary, as you can simply go back down again if you don't feel well, and there is very little exertion required. If you don't have a warm jacket you can rent one, and must pay a deposit.
A trip up the mountain can be combined with the Lijiang Impression show which is at the base of the mountain.
Popular Yunnan Tours: