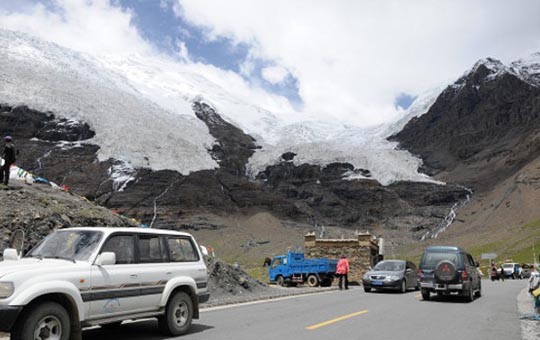 About an hour drive along the scenic route from Yamdrok Lake towards Shigatse in Tibet, lies the Karola Glacier, a magnificent glacier at an altitude of 5,039 m that can be easily viewed right off the highway.
Highlights and Travel Tips
Kharola Glacier is a pit-stop along the highway from Lhasa to Shigatse or beyond to Mt. Everest Base Camp. The glacier originates at Mt. Noijin Kangsang (7,191m), which is one of the four holy mountains of Tibet. The viewing point is just off the highway, allowing visitors to easily get a close-up view of the magnificent glacier as well as the sacred snow-capped mountain nearby.
There is a stupa at the viewing point built largely for photographic purposes as well as prayer flags and a wooden walkway. The public toilet at the glacier is very basic.
Local women and children will likely ask if you want to take a photo with them for a fee or try to sell you something. Be sure to ask before taking photos of them to avoid potential conflicts.
Considering the glacier is at an elevation of over 5,000 meters, be sure to pace yourself while walking around or climbing.
Opening Hours and Ticket Prices
Opening hours: 9:00 am - 5:00 pm
Entrance fee: 50 RMB
Average time for this activity: 1 hour
How to Get There
Karola Glacier is about a 4-hour drive from Lhasa or a one-hour drive from Yamdrok Lake. Visitors usually stop at Karola Glacier for a visit on their way from Lhasa to Shigatse or beyond to Mt. Everest Base Camp. A day trip from Lhasa to Yamdrok Lake and Karola Glacier and then back to Lhasa is possible but would be tiring, especially at such high elevation. Visitors to Karola Glacier should join a tour or hire a private car for their visit.
Popular Tibet Tours