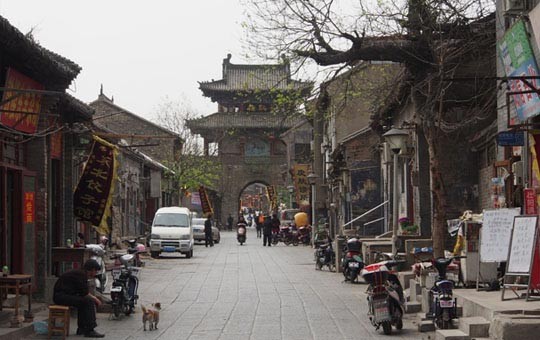 Luoyang Old Town is a lively place with residential areas, shopping streets, and historic buildings. Lijing Gate, the old west gate of the town, is the symbol of the ancient city of Luoyang. The Drum Tower, located on East Avenue and about 350 years old, deserves a quick visit. On the southeast corner of the old town, there is a recently rebuilt area, designated Luoyi Old Town, which is pretty and nice to explore, especially in the evening when the buildings are illuminated.
West Avenue, a pedestrian street starting from the Lijing Gate, is the busiest and tends to become crowded in the evening. Unlike many nicely restored but touristy old streets in other places, West Avenue in Luoyang Old Town was not rebuilt for tourism and thus looks rather ordinary. Still, it is a lively old street home to local people, making it an authentic stop to immerse in local life. Plus, snacks and souvenirs are cheaper here.
Do carefully inspect hygiene when buying snacks or dining. If you are visiting in the evening, it is better to go in a group and avoid streets with fewer tourists.
Average time for this activity: 1 hour
Popular Luoyang Tours