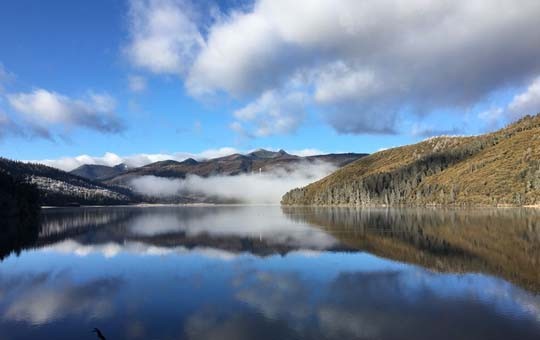 Situated on the vast Tibetan Plateau, Shangri-La is renowned for its scenic landscapes and unique wildlife, and there is no better way to appreciate the area's one-of-a-kind natural surroundings than via a visit to Potatso National Park.
Potatso National Park, also known as Pudacuo National Park, opened in 2007 and is China's first national park to be approved by the International Union for Conservation of Nature. The park is famous for its primitive landscape and features several scenic hills, meadows, and lakes. It is also home to more than 100 endangered species, including leopards, cranes, macaques, lynxes, and many more.
Highlights and Travel Tips
Potatso National Park has three main scenic areas, Shudu Lake, Militang Alpine Pasture, and Bitahai Lake, which can be reached by sightseeing buses that take visitors to fixed stops around the park.
Shudu Lake, on the north side of the park, is a 20-minute bus ride from the park entrance. At an elevation of 3,705 meters, this lake is an alpine gem. Its crystal clear waters are enjoyed by wild ducks, cranes, and various fish species, and are surrounded by tree-covered hills. The Shudu Lake scenic area offers various hiking routes; the two most popular trails are 0.3 and 1.6 miles respectively. There is also a longer trail that will take you 4 miles or so south to Militang Alpine Pasture, but this is only recommended for avid hikers who have brought snacks and water and have allotted ample time for the trek.
Ten minutes south of Shudu Lake by bus is Militang Alpine Pasture, a large meadow where yaks and sheep are commonly seen grazing. This tranquil grassland features a number of interesting plant species, including mushrooms, spruce trees, and wildflowers, making for an idyllic alpine scene.
The sightseeing bus then takes visitors 20 minutes south to Bitahai Lake, commonly considered the highlight of the park. On the way to Bitahai Lake, your driver can take you to a visitor center where meals can be purchased. Once at the lake, there are two ways to appreciate the surrounding scenery. Many visitors opt to walk along the 2.5-mile wooden boardwalk that encircles the lake. This will allow you to get an up-close glimpse of the surrounding flora and fauna, as well as great views of the lake itself. When hiking around Bitahai Lake, remember to walk in a clockwise direction, as that is the local Tibetan Buddhist custom. If you're a bit too tired for a hike, another popular way to enjoy the scenery is by taking a boat ride around the lake, which you can do for a reasonable 50 RMB fee.
Potatso National Park is roughly a 30-minute drive from Shangri-La and can be reached via bus, car, or taxi.
Opening hours: 8:00am-4:00pm (November-March), 8:00am-5:00pm (April-October)

Entrance fee: 258 RMB (includes sightseeing bus)
Popular Yunnan Tours: