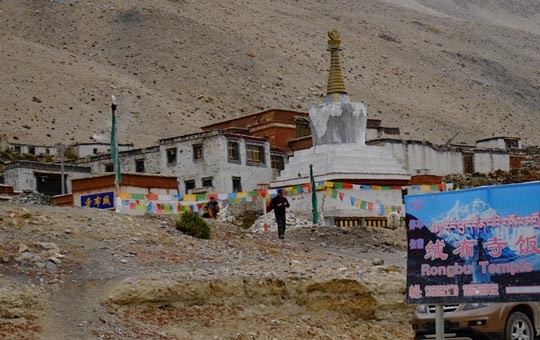 Rongbuk is a small monastery about 3 kilometers from Mt. Everest Base Camp in Tibet. At an elevation of 4,980m/16,340 ft, Rongbuk is the highest monastery in the world.
Highlights and Travel Tips
Rongbuk Monastery is within striking distance of Mt. Everest, and offers great views of the peak. The monastery's stupa out front makes for a good photo opportunity with Mt. Everest as a backdrop.
Apart from the stunning views of Mt. Everest, The monastery itself is also worth a visit. The monks and nuns living in this monastery are friendly and happy to talk with visitors.
After the close of Mt. Everest Base Camp starting in December of 2018, Rongbuk Monastery is now the farthest point visitors can reach on the way to Mt. Everest.
The monastery also provides basic accommodation and food for tourists. The Zhufeng Hotel beside the Rongbuk Monastery offers decent amenities for tourists relative to the area's other options.
Opening Hours and Ticket Prices
Opening hours: 9:00am - 4:00pm
Entrance fee: 35 RMB
Average time for this activity: 2 hours
How to Get There
Visitors need to join a tour or hire a private car to reach Rongbuk Monastery. Visitors from Lhasa usually stay overnight in Shigatse or Tingri and then continue their journey to Everest Base Camp. The drive to Rongbuk Monastery takes about 3 hours from Tingri and 7 hours from Shigatse.
Popular Tibet Tours