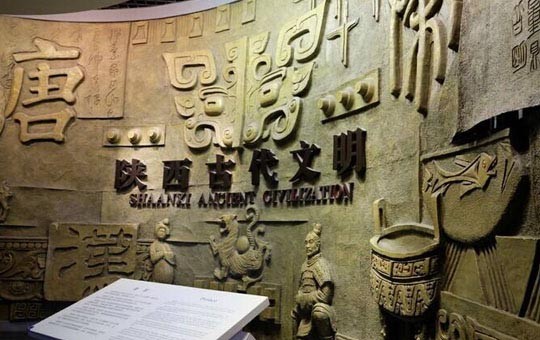 As home to the capital during 13 of China's dynasties, including the famous Zhou, Qin, Han, and Tang, Shaanxi province is rich in both culture and history. Xi'an's Shaanxi History Museum is the perfect place to learn about Shaanxi's colorful past and see some of its most striking relics and treasures.
Highlights and Travel Tips
Opened in 1991 and occupying a large site close to the Big Wild Goose Pagoda, Shaanxi History Museum is the first modern museum in China and is now a popular destination among both locals and visitors alike. The museum was designed to replicate the traditional Tang architectural style, and it houses precious artifacts that have been unearthed throughout the province, including bronze wares, pottery, paintings from Tang dynasty tombs, and more.
Regular exhibitions are in halls 1-3 and are arranged chronologically from hall 1 to hall 3. Although the exhibitions span more than one million years, from prehistoric times to 1840 AD, the most interesting exhibitions are those focused on the Zhou and Qin dynasties in hall 1, the Han dynasty in hall 2, and the Tang dynasty in hall 3. Hall 4 houses an additional exhibition of treasures from the Tang dynasty, which requires the purchase of an additional ticket (for 30 RMB). There is also a special hall displaying a variety of beautiful mural paintings from the Tang dynasty, which costs 300 RMB to enter.
Limited free tickets for the regular exhibitions in halls 1-3 are available both in the morning and in the afternoon. However, most days there are long queues for the free tickets. In such cases, we recommend simply purchasing the 30 RMB ticket that allows you visit the exhibition of Tang dynasty treasures on top of the free regular exhibitions in halls 1 to 3, which will help save a lot of time. During certain peak times, like around the National Holiday or Chinese students' summer vacation (July and August), there may also long lines for the 30 RMB tickets; if that is the case, the more pricey, all-inclusive 300 RMB ticket is another option that can help you to skip the lines.
The museum is quite crowded most days, so it requires some patience and you may need to navigate through throngs of people to get a closer look at certain pieces. Some exhibits have English descriptions, but not all. English audio guides or personal guides are provided at a cost but are very limited, so you may not be able to get one on especially busy days. Since the museum is full of history and stories beyond what is displayed on the signs, it is worth getting a private guide to help you make the most of your visit.
For security reasons, museum visitors must leave their bags at the coat check before entering the museum. Make sure to keep your ticket with you, as you may be asked to show it when entering some halls. Flash photography is not permitted inside the museum.
Opening Hours and Ticket Prices
Opening hours: 8:30am - 6:00pm (March 15 to November 14) / 9:00am - 5:30pm (November 15 to March 14), closed on Mondays
Entrance fee: free for regular exhibitions (with a quota of 6,000 free tickets per day), 30 CNY for Treasures of the Great Tang Dynasty, 300 CNY for Mural Paintings of the Tang Dynasty
Average time for this activity: 2-3 hrs
How to Reserve a Ticket Online
Visitors can reserve tickets online a maximum of 10 days in advance. Please click here to enter the official online ticket reservation site (only in Chinese) to book a ticket before visiting. Please note that only a small number of tickets (500) are allocated for online reservation every day, so reserving a ticket online can be very difficult. In addition, the site requires you to register with an email, and only Chinese identity cards are accepted when booking tickets online.
How to Get There
Located near the Big Wild Goose Pagoda south of central Xi'an, Shaanxi History Museum is within walking distance from the Xiaozhai stop of subway line 2. There are also bus stops right at the gate of the museum.
Popular Tours