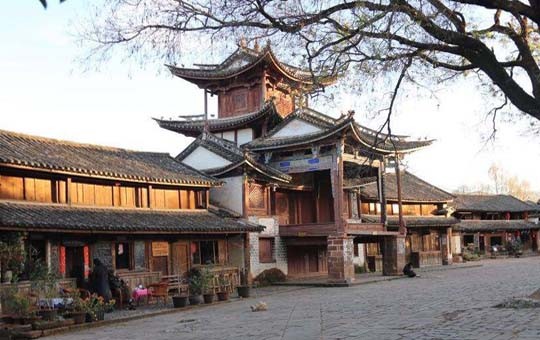 Shaxi is a historic market town located halfway between Dali and Lijiang. Not yet developed as a tourist destination, this town retains its standing as a true "old town", not one which has been rebuilt and manufactured.
Highlights and Travel Tips
The two main ethnic groups of Shaxi are the Bai and Yi people. The village of Shaxi is mainly a pedestrian old town, with some new parts which have been built on the outside. It is nice that no cars or electric bikes make their way into the cobblestone streets. You can pleasantly walk down the street without watching your back, and if you have children you don't have to hold their hand constantly. The old town is not huge, it is just one main street and square.
The shops have a nice assortment of ethnic wares and you can bargain easily. A number of cafes offer coffee, snacks and meals. Lots of opportunities for photographers to get great landscape and people photographs. Generally a nice place to unwind and take in the scenery.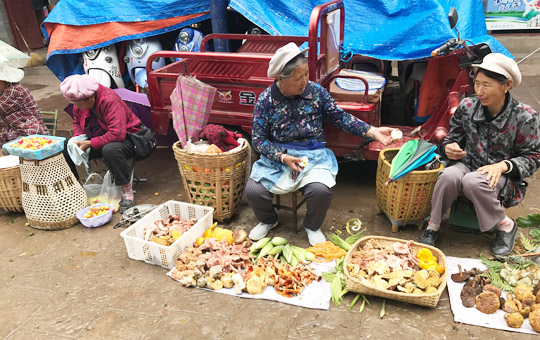 As the last remaining market town on the ancient Tea & Horse Caravan trail, Shaxi still hosts the local market every Friday. If you are coming to Shaxi, try to be here for it. The Bai people from all the villages in Shaxi Valley and the Yi people from the surrounding mountains all come together to trade cattle, horses and other farm animals. Minority women will be dressed in their colorful traditional costumes, and men will often lead pack mules to carry supplies back to their mountain villages, much like in the days of the Tea & Horse Caravan Trail hundreds of years ago. Shaxi's market square was added to the World Monuments Watch List of 100 Most Endangered Sites in 2001.

Outside the Shaxi ancient village, Shibao mountain is home to 1,300-year-old Buddhist rock carvings and temples.There are numerous temples and grottoes as well as some fantastic views and walks amongst the old forests. Shibao Mountain covers a big mountain area with its main points of interest some times distant kilometers away. Going up to the temple there are some families of monkeys that are wild and its best not to get too close.
If you are looking for a place where you can hike in the hills and see relatively few other tourists, this is a good place to visit. From the parking lot to the temple in the hills the walk is a pleasant 500 meters. You can keep hiking beyond the temple into the hills if you have time.
Popular Tours