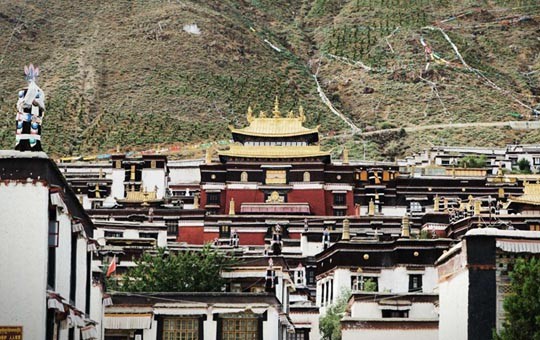 Situated in Shigatse, the second largest city in Tibet, Tashilhunpo Monastery is one of the largest functioning religious institutions in Tibet and a must-see for visitors while in Shigatse.
Highlights and Travel Tips
Tashilhunpo Monastery was founded in 1447 by the first Dalai Lama and is one of the six great Gelugpa monasteries. This monastery is the official residence of the Panchen Lamas, making it an important Buddhist center visited by numerous pilgrims.
The complex is huge and houses many beautiful statues, stupas, and paintings. The most notable artwork is the Future Buddha, a huge golden statue of the Maitreya Buddha. At 26 meters in height, it is the largest gilded statue in the world and is luxuriously decorated with diamonds, pearls, and other precious stones. The historical Panchen Lamas' stupas housed in the chapels are also interesting to look at. Visitors can take photos inside some chapels after paying a fee.
Tashilhunpo Monastery is large and requires some walking and gentle climbing. Considering the elevation, visitors should pace themselves when walking around. In addition, like most places in Tibet, the conditions of the public toilets here are poor, and it is better to avoid using them if possible.
Opening Hours and Ticket Prices
Opening hours: 9:00am - 5:00pm
Entrance fee: 100 RMB
Average time for this activity: 2-3 hours
Popular Tibet Tours