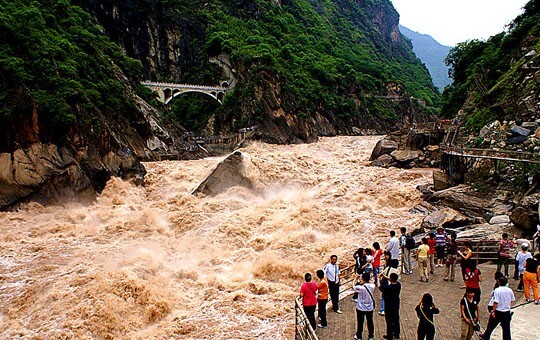 Cutting through Yunnan's towering mountains, Tiger Leaping Gorge is a dazzling canyon on the Jinsha River, a major tributary of the Yangtze River. This gorge is one of the deepest in the world and, with the many rocky hillsides and cliffs that run along it, is one of the most scenic too.
Highlights and Travel Tips
Around 15 kilometers (9 miles) in length, the gorge is located where the river passes between the 5,596-meter (18,360-foot) Jade Dragon Snow Mountain and the 5,396-meter (17,703-foot) Haba Snow Mountain in a series of rapids under steep cliffs.
The gorge gets its name from a local legend that tells of a tiger that jumped across the river at its narrowest point (an impressive 25 meters) to escape from a hunter.
The Tiger Leaping Gorge area offers some of China's most stunning scenery, which can be enjoyed via a variety of hiking trails.
There are two main trails at the gorge, the lower road and the upper trail. The lower road leads to the main entryway to the Upper Tiger Leaping Gorge viewing platform and so can be quite congested with cars and tour buses. This road extends down to the Walnut Grove and the Lower Tiger Leaping Gorge. More intrepid hikers can brave the upper trail, while leaves the road and leads to the Middle Tiger Leaping Gorge.
While the trail is well maintained and not too strenuous, it does feature some steep climbs, so it's probably not the best choice for small children or those with mobility issues. You can embark on a 1-2 day trek via the upper trail, which will allow you to avoid the crowds and see more of the gorge.
Tiger Leaping Gorge can be reached by road; it is about two hours north of Lijiang and two hours south of Shangri-La by car.
Recommended duration of activity: 2 hours for visit; 1-2 days for trek
Popular Tours