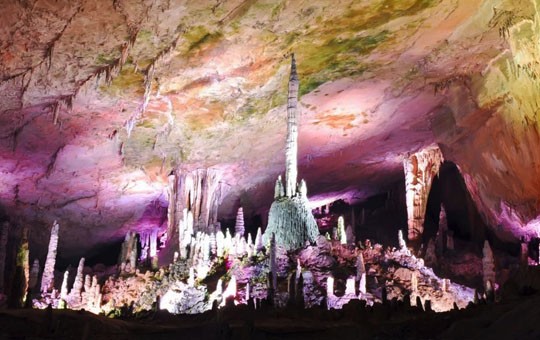 Located about 10 km southeast of Wulingyuan district in Zhangjiajie City, Yellow Dragon Cave, or Huanglong Cave, is one of the biggest cave systems in China.
Highlights and Travel Tips
Yellow Dragon Cave is a huge karst cave with four floors and features many impressive stalactites and stalagmites (many of which are lit up with colorful lights), large chambers, and several underground rivers, lakes, and waterfalls. The tour route for the portion of the cave open to visitors is about 3.2 km in length, including about 800m of underground river that can only be traversed by boat.
The walkways inside the cave are well constructed and safe. However, there are a lot of stairs and the path gets slippery in places, so visiting the cave is probably not suitable for those with health or mobility issues.
Opening Hours and Ticket Prices
Opening hours: 8:30 AM - 5:00 PM
Entrance fee: 100 RMB, additional 15 RMB for the Maze Cave
Average time for this activity: 2-3 hours
How to Get There
Visitors coming from Wulingyuan district can take bus line 1 or a taxi to get to Yellow Dragon Cave. Those coming from downtown Zhangjiajie can first take a bus to Wulingyuan and then head toward the cave; the bus ride to Wulingyuan takes about 40 minutes and costs about 12 RMB.
Popular Zhangjiajie Tours