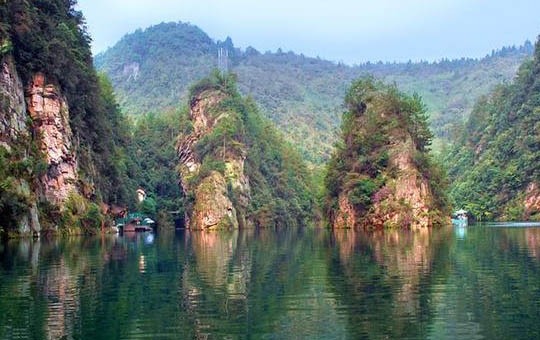 Neighboring Zhangjiajie National Forest Park, Baofeng Lake is a pretty lake where visitors can take a relaxing cruise and enjoy views of the nice rock formations surrounding the lake.
Highlights and Travel Tips
The walk from the ticket window to the lake pier takes about 20 minutes and involves many steps. Most visitors choose to skip the climb and take the shuttle bus instead. However, be aware that there might be a long line for the shuttle bus at busy times.
Once you are seated on the traditional roofed boat, you can sit back and enjoy the relaxing cruise. The 30-minute boat ride will take you around the beautiful lake so you can view some unique rock formations surrounding the lake. There is a portion of the cruise where two singers in traditional dress sing some local tunes from across the lake, giving you a glimpse of the culture of the Tujia ethnic minority. Please note that the tour guides on the boat only speak Chinese.
There is also a tall waterfall at the entrance to the lake, which is a nice place to take photos.
Opening Hours and Ticket Prices
Opening hours: 7:00 AM - 5:00 PM
Entrance fee: 96 RMB (including boat ride)
Shuttle bus fee: 25 RMB (round trip)
Average time for this activity: 2-3 hours

How to Get There
Visitors coming from Wulingyuan district can take a short taxi or bus ride or even walk to Baofeng Lake ticket gate. Visitors from downtown Zhangjiajie can take a bus to Wulingyuan first, which takes about 40 minutes and costs about 12 RMB.
Popular Zhangjiajie Tours