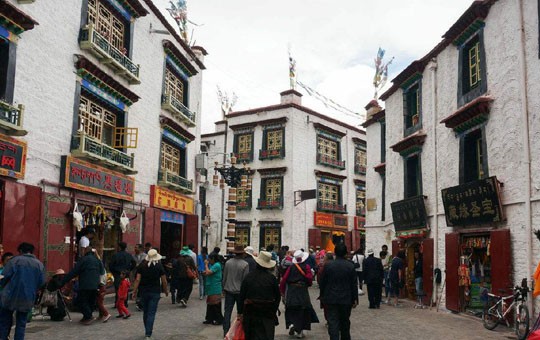 With Jokhang Temple in the center, Barkhor Circuit, or Barkhor Street, is at the heart of the old part of Lhasa. A lively market and sacred pilgrimage route for Tibetans, Barkhor Circuit is a great area for a leisurely walk, where you can experience some local culture and traditions while souvenir shopping.
Highlights and Travel Tips
Legend has it that when the Jokhang Temple was first built by the first Tibetan King Songtsen Gampo in 647, Barkhor Street was created by the thousands of pilgrims who circled around the temple and wore down the surrounding earth over time. Today, this atmospheric 1 km circuit, flanked by traditional Tibetan houses, is the heart and soul of Lhasa.
Locals and pilgrims alike continuously complete the holy circuit from dawn until dusk, swirling prayer wheels or rhythmically prostrating their bodies along the ground to express their religious devotion. For travelers, joining the locals in a clockwise stroll down the street and watching the native Tibetans going about their worship and daily life creates a lovely atmosphere and is a must-do when visiting Lhasa. Tibetan devotees frequently pray in the morning or at night when the temperature is cooler.
The houses along the street are in traditional Tibetan style, making for some good photo opportunities. There are also lots of shops and restaurants along the street. Shops offer all kinds of products such as religious articles, Tibetan jewelry, food and produce, souvenirs, etc. Many shops cater to locals, giving you a glimpse of authentic, everyday Tibetan life. Some shops offer tourist souvenirs, but remember to bargain when souvenir shopping.
Most transactions will be in cash but you can find ATMs along the street. If you are looking to buy valuable things, be sure you know what you are looking at or get a guide to judge the quality as the sellers may try to overcharge you.
Opening Hours and Ticket Prices
Opening hours: all day
Entrance fee: free
Average time for this activity: 2 hours
Popular Tours