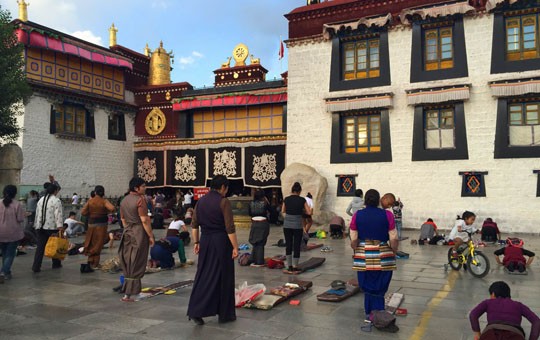 Located in the very heart of Lhasa, the Jokhang Temple is a splendid Buddhist temple and the most sacred temple in Tibetan Buddhism. The temple was included on UNESCO's World Heritage list in 2000 as part of the Potala Palace.
Highlights and Travel Tips
Located about 2 km southeast of the Potala Palace, Jokhang Temple is at the center of Lhasa (old town) and dates back to 7th century, when it was founded by King Songtsen Gampo. The King built the temple to house the important statues brought by his two brides, Princess Bhrikuti from Nepal and Princess Wencheng from Tang-Dynasty China. The statue of Sakyamuni Buddha brought by Princess Wencheng is the centerpiece of Jokhang Temple and the ultimate pilgrimage destination for Tibetan Pilgrims.
Being an important pilgrimage site for all Tibetans, you can see lots of worshippers doing repeated prostrations and praying on the pavement outside the temple. The inside of the temple has lots of statues and is full of monks praying and chanting. The temple is usually crowded with prayers and tourists.
The temple has four floors with many gold decorations. Visitors can go to the second floor to view the wonderful gold-leaf coated roof and carvings. Photos are not allowed inside the Temple.
Opening Hours and Ticket Prices
Opening hours: 8:00am - 5:30pm
Entrance fee: 85 RMB
Average time for this activity: 2 hours

Popular Tours