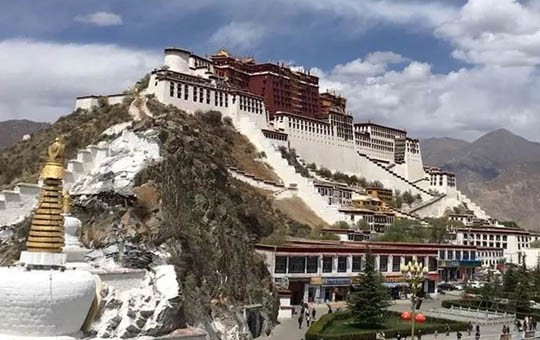 Sitting on the Red Mountain in the center of Lhasa, the Potala Palace was the chief residence of the Dalai Lama until 1959 and is now one of the most beautiful and iconic attractions to visit in the Tibetan capital.
Highlights and Travel Tips
The Potala Palace was built in 1645 during the time of the 5th Dalai Lama. The structure is huge and magnificent, especially when looking at it from below. The square and park across the road are the perfect place to appreciate the palace from a distance. The palace is equally charming at night, when it is illuminated with lights.
Sitting on a hill around 130m above the ground, visitors need to climb many uneven stairs to enter the palace, and many additional stairs when touring the inside of the palace. Considering Lhasa's altitude (3,700m), the climb is not easy and it is important to pace yourself and stop for a rest if you feel short of breath.
The palace consists of the White and Red palaces, as well as additional structures inside. The palace as a whole has 1,000 rooms that are full of treasures and relics, allowing you to fully appreciate Tibetan culture and heritage. The tomb of the 5th Dalai Lama is particularly impressive. The temples inside can be dark and dingy and smell of burning butter fat, which is used to heat the palace. There are monks working and living in the palace, so many areas are not open to the public and visitors must follow certain routes. No photography of any kind is allowed inside the palace.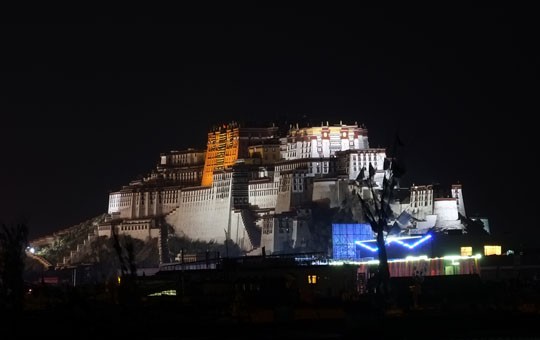 There is a limit of 2,300 visitors allowed in the palace each day to avoid overcrowding. During peak season, the palace can be crowded and you may need to move quickly through the place because, as each visitor only gets 1 hour to visit. If you don't exit the Potala Palace by your assigned time, your tour guide and company will be punished. Foreign visitors need to arrange a tour through a travel agency and go with a guide in order to visit the Potala Palace.
Opening Hours and Ticket Prices
Opening hours: 9:00am-12:00pm, 3:30pm-4:30pm
Entrance fee: 200 RMB (May to October) / 100 RMB (November to April)
Average time for this activity: 1 hour
Popular Tours