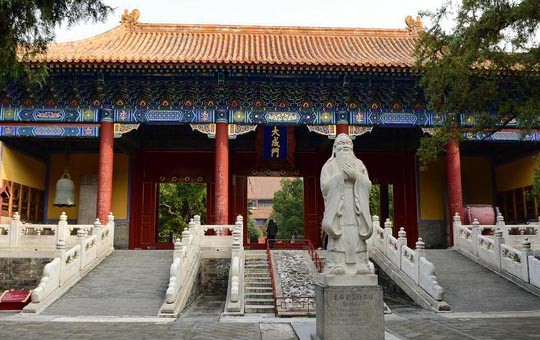 Just a short walk from the Lama Temple, lies the Temple of Confucius and Guozijian Museum, once the site of the imperial college during the Yuan, Ming, and Qing dynasties, and now a museum consisting of multiple scholarly halls and stone steles and showcasing the educational system in imperial China.
Highlights and Travel Tips
The Temple of Confucius in Beijing is the second largest Confucian Temple in all of China, after the one in Confucius' hometown of Qufu. The temple was originally built in 1302 for officials to honor and offer sacrifices to Confucius and today features numerous statues and carvings of note, as well as hundreds of stone steles recording the names of the scholars who passed the Imperial Examination.
Beside the Confucius Temple lies Guozijian Museum, which was originally constructed in 1306 and was once the site of the Imperial College, China's most important educational institution throughout the Yuan, Ming and Qing dynasties. Today, the museum showcases the exam system used to select talent for government roles in feudal China.
The Temple of Confucius and Guozijian Museum are smaller than Lama Temple, but much quieter with fewer visitors, making them a good place to appreciate the ornate architecture of the time in peace.
In the Chong-Sheng Memorial Hall of the Confucian Temple, a free performance of Confucian ritual music, known as dacheng, is held hourly. This enchanting performance lasts about 15 minutes and allows visitors to learn about the traditions of Confucianism in a visually and musically engaging way.
Though the architecture of these sites is worth seeing, they may seem similar in appearance to other temples in Beijing and are only recommended for visitors who are especially interested in history and want to see more traditional architecture after visiting Lama Temple.
Opening Hours & Ticket Prices
Opening hours: 8:30am - 5:00pm
Dacheng ritual music performance times: 10:00-10:30am, 11:00-11:30am, 2:00-2:30pm, 3:00-3:30pm, 4:00-4:30pm
Entrance fee: 30 CNY

How to Get There
The Temple of Confucius and Guozijian Museum are a short walk from the Lama Temple stop of subway lines 2 and 5.
Popular Tours