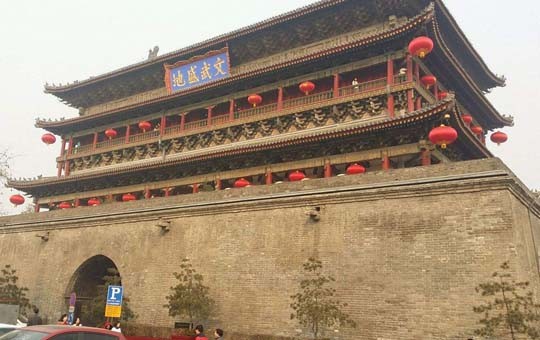 Adjacent to Xi'an's iconic Bell Tower is the impressive, rectangular Drum Tower, one of many symbols of the city's colorful past. Every Chinese city during the Ming Dynasty had a bell tower and drum tower to help keep time and transmit news, and Xi'an is home to especially large and pristinely preserved examples of both.
Highlights and Travel Tips
If you are in Xi'an for more than a brief stop, the Drum Tower is well worth a visit. It is located adjacent to the Bell Tower and overlooks the gray-tiled roofs of the nearby Muslim Quarter.
The Drum Tower is similar to the nearby Bell Tower, apart from its rectangular shape. It was first built in 1380, with restorations in 1669, 1739, and 1853, and today reaches a total height of 33 meters.
The second story of the tower, which is surrounded by a parapet, is now splendidly restored and is used as an antique shop and sometimes holds art exhibitions. It also houses a collection of a variety of drums in different shapes and sizes and made from different materials. There is an exhibition of Ming and Qing dynasty furniture on the third floor.
The structure makes for an especially awe-inspiring sight in the evening, when it is illuminated with colorful lights.
The drum tower holds an interesting drum performance several times during the morning and the afternoon. Please consult your agent for the latest performance schedule.
Average time for this activity: 0.5 hrs
Entrance fee: 35 CNY (Drum Tower only), 50 CNY (Bell Tower/Drum Tower combo ticket)
Opening hours: 8:30am-6pm
Popular Xi'an Tours