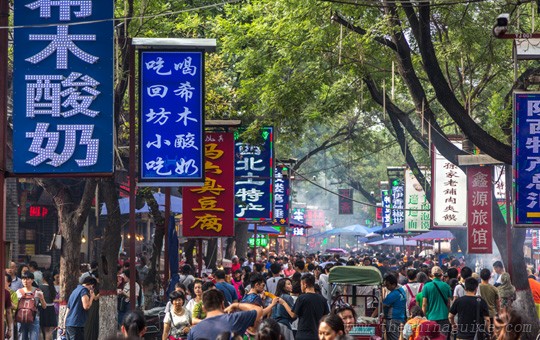 As the starting point of the Silk Road, Xi'an has historically been one of China's most diverse cities. Today, the city is home to one of China's most vibrant Muslim communities, and its Muslim Quarter has become a popular destination for people watching, browsing shops, and tasting Xi'an's famous street snacks.
Highlights and Travel Tips
The many narrow alleys cutting through the Muslim Quarter are lined with food stalls and shops. Among them, the most animated is Beiyuanmen pedestrian street, which winds down from Beiyuan Gate to the Drum Tower.
There's a lot to see and taste as you stroll down this 500-meter pedestrian street, as the street vendors prepare their specialty dishes right in front of you. Many of the stalls sell genuinely local foods, although there are also a number of touristy stalls selling things that you can find anywhere in the country. There are also shops and markets where you can bargain for souvenirs.
Traditional foods include roujiamo (meat sandwich), paomo (a type of lamb stew), dumplings in hot and sour soup, lamb skewers, lamb soup, and biangbiang noodles. If you like lamb and beef, then you will be in your element here!
Afternoon or night are the best times to visit this area, as this is when the shops and stalls are at their liveliest. The street can be quite busy during the evening and on weekends, so be prepared to navigate through throngs of people.
The Gao's Family Mansion, located on the pedestrian street, is the former residence of a high-ranking official from the late Ming Dynasty and may be interesting to those who are interested in Chinese architecture. For those interested in the religious side of Xi'an, you can also take a brief detour to the nearby Great Mosque, unique for its traditional Chinese appearance.
If you branch off from Beiyuanmen street into the smaller alleys, you will be rewarded with fewer tourists and food stalls and shops that mainly serve the local residents. There are fairs and markets along some alleys on Thursdays and Sundays, where you can see people selling all kinds of things. If you want to explore the non-touristy alleys of the Muslim Quarter, just let us know. Our guide will accompany you through both the touristy pedestrian street and the non-touristy alleys on foot, by electric shuttle bus, or by tuk-tuk.
Opening Hours and Ticket Prices
Opening hours: all day, but shops begin to close after 10:00pm
Entrance fee: free
Average time for this activity: 1 hour
How to Get There
Located near the Bell Tower and the South Gate of the City Wall, Beiyuanmen pedestrian street is quite close to the Bell Tower subway station on line 2.

Popular Tours