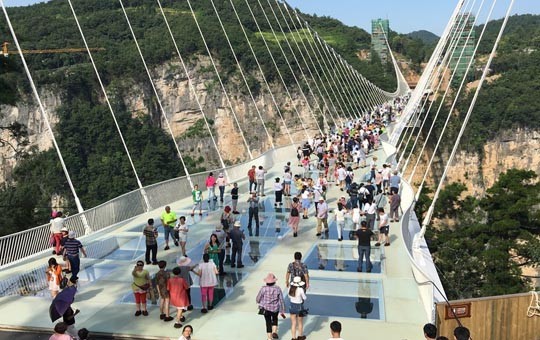 Adjacent to the world-famous Zhangjiajie National Forest Park, the Zhangjiajie Grand Canyon features a scenic hiking route along a deep canyon and the world's longest, highest glass bridge.
Highlights and Travel Tips
The Grand Canyon of Zhangjiajie incorporates deep canyon, streams, waterfalls, caves, cliffs, and forest, providing a scenic but strenuous hiking route. A granite slide is also available for visitors to slide down to the bottom of the canyon quickly. At the end of the hiking route, there is a reservoir where you can take a boat ride to the exit.
Hanging over the huge, gaping Canyon, the Zhangjiajie Grand Canyon Glass Bridge is the longest (430m) and highest (300m) pedestrian glass bridge in the world. The glass bridge is indeed a highlight of the park and attracts many tourists. While the bridge gives visitors a thrilling experience, we do not recommend it for those afraid of heights.
Only small-size bags (wallets, waist packs, handbags) and cell phones are allowed to be brought onto the bridge. Cameras, backpacks, and other items need to be left in a locker. They only allow about 800 people on the bridge at a time, so be warned that there might be long lines depending on the time of your visit. Please note that the glass bridge may be closed without prior notice due to bad weather, like strong wind, heavy rain, snow, etc.
Opening Hours and Ticket Prices
Opening hours: 7:00 AM - 5:00 PM
Grand Canyon: 118 RMB
Glass Bridge: 141 RMB
Average time for this activity: 2 to 6 hours

How to Get There
There are buses from Zhangjiajie Central Bus Station to Jiangya Hot Spring every 30 minutes and it takes about 1 hour to get to the canyon via this route. Visitors who depart from Wulingyuan can take the bus to the Grand Canyon and the trip takes about 20 minutes.
Popular Tours