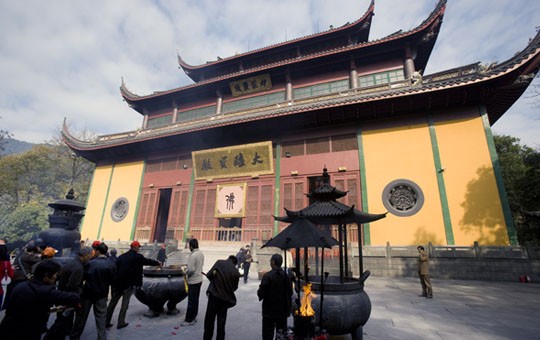 Situated among the verdant hills surrounding the historic city of Hangzhou is one of China's most extraordinary Buddhist sites, Lingyin Temple. Together with the nearby Feilai Feng Grottoes and their ancient Buddhist rock carvings, the impressive and atmospheric Lingyin Temple is truly a must-see for visitors to Hangzhou.
Highlights and Travel Tips
First founded in 328 AD, Lingyin Temple is a living artifact of Buddhism's long influence in China, and many locals come to pray and burn incense at this sacred spot. Although rebuilt in various iterations since its founding, today the temple is one of the largest and most prosperous in all of China.
Situated on the side of a large hill, the temple complex is huge and constructed in a unique combination of Song dynasty and Qing-era fashion. It is comprised of five main halls, all of which are intricately painted and decorated. The first, the Hall of Four Heavenly Kings, is immense and is famed for its large Laughing Buddha statue and 800-year-old Skanda Buddha statue.
In the next hall, called Mahavira Hall, you can find another of the temple's most renowned figures, a statue of Sakyamuni Buddha that stands at an awe-inspiring 24.8 meters, making it one of China's tallest wooden statues.
The temple's other halls contain equally precious collections of statues and artifacts and are worth exploring. These ancient relics, combined with the surrounding trees and the smell of incense, make for a very peaceful, spiritual setting.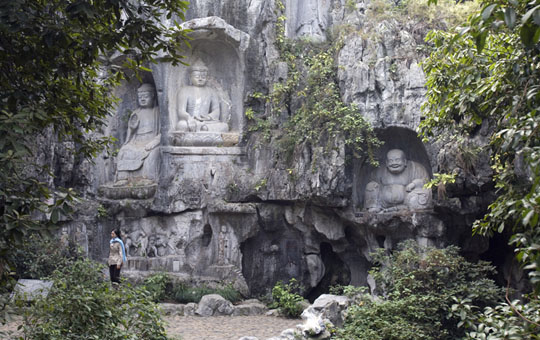 Before or after your visit to Lingyin Temple, you should be sure not to miss a tour of the nearby Feilai Feng (Peak Flown from Afar), just a short walk from the temple entrance. This historic peak's grottoes are filled with over 300 Buddhist rock carvings, some of which date back over 1,000 years. Walking through these atmospheric caves and their exceptionally well-preserved carvings will make you feel as though you've stepped back in time.
Please note that you must purchase tickets to Lingyin Temple at the entrance to Feilai Feng Scenic Area. Tickets for both attractions can be purchased together.
How to Get There
Lingyin Temple is located about 3.5 km west of West Lake's westernmost banks. Situated in a hilly area, the temple could be difficult to reach on foot or by bike, so we recommend traveling to the temple by car or bus. Numerous bus routes go to Lingyin Temple from various points around West Lake, and a car or taxi ride should take between 20-40 minutes depending on your starting point.
Opening Hours and Ticket Prices
Opening hours: 7:00am - 6:00pm
Entrance fee: 45 RMB (Feilai Feng Scenic Area); 30 RMB (Lingyin Temple); 75 RMB (combo ticket)
Recommended duration of this activity: 2 hrs
Popular Hangzhou Tours: